NATO aircraft crashes in Afghanistan
CASUALTIES The alliance crew suffered some injuries in yesterday's crash. Elsewhere, 11 civilians were killed in a blast, while German forces killed three civilians by mistake
A military aircraft used by NATO-led forces crashed shortly after take-off from a major base in southern Afghanistan yesterday, alliance officials said, the second crash at the base in as many days.
First thought to have been a helicopter, a spokeswoman for the International Security Assistance Force (ISAF) in Afghanistan later said the crash involved a fixed-wing aircraft with a small number of crew.
"The incident will be investigated; however, insurgent activity has been ruled out," ISAF said in a statement.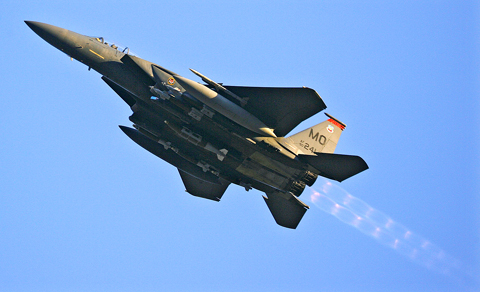 A US Air Force F-15 fighter jet does a low-level flyby over Forward Operating Base Bostick in eastern Afghanistan on Jan. 1. A US F-15E Strike Eagle fighter jet crashed in eastern Afghanistan on Saturday, the US Air Force said.
PHOTO: REUTERS
The ISAF spokeswoman said the crew ejected safely but had suffered some injuries.
"Those injuries are being treated," the spokeswoman said.
Few other details were immediately available about the crash at the Kandahar Air Field, the alliance's main military base in southern Kandahar province, a Taliban stronghold.
The aircraft was on fire after the crash and Afghan forces were closing off roads leading to the sprawling base, just south of Kandahar City, officials said. The ISAF spokeswoman said some people were being evacuated from the area for their own safety.
Traffic from airfields in the south has increased dramatically since thousands of US Marines and British soldiers launched major operations against the Taliban in neighboring Helmand province earlier this month.
Meanwhile, 11 civilians, including a woman and a child, were killed in a bomb blast in southwestern Afghanistan, while NATO-led German forces killed three civilians after mistaking them for Taliban militants in the northern region, officials said yesterday.
The 11 civilians were traveling in a minibus in Gulistan district of Farah province on Sunday when their vehicle was hit by a roadside bomb, Abdul Raouf Ahmadi, spokesman for police forces in the western region, said.
"Eleven civilians, including a child and a woman and the rest men, were killed in this explosion," Ahmadi said, adding that a second vehicle which arrived at the scene to evacuate the bodies was blown up by another roadside bomb, injuring the driver.
Ahmadi blamed "enemies of Afghanistan," a term often used by Afghan officials to describe Taliban militants, for the attack.
On Sunday, German forces in the northern province of Kunduz killed three civilians and wounded two others after mistaking them for Taliban militants, provincial Governor Mohammad Omar said.
"The German forces had intelligence information that armed Taliban were traveling in a civilian vehicle," Omar said, adding that the forces opened fire on the targeted vehicle after it did not stop at a checkpoint.
"After the shooting, the German force realized that the armed Taliban had got off the vehicle before reaching the checkpoint," the governor said.
"Two men and one child were killed and two other passengers were wounded in the shooting," he said.
The civilians were undergoing treatment in a German hospital in the province, the governor said.
Civilian casualties at the hands of NATO-led forces have become a delicate issue in Afghanistan. Senior Afghan officials, including President Hamid Karzai, have repeatedly warned that mounting civilian deaths would turn the Afghan people against their government and international forces in the country.
Around 4,000 German troops are stationed under the banner of NATO-led international forces in the northern region, which includes Kunduz province.
Also on Sunday, 16 people were killed and five wounded when a Soviet-made Mi-8 civilian transport helicopter crashed after take-off from the Kandahar base.
And on Saturday, a US F-15E Strike Eagle fighter jet crashed in eastern Afghanistan, killing both crew members, a rare crash by a supersonic jet used to strike ground targets and provide close air support for ground troops.
Comments will be moderated. Keep comments relevant to the article. Remarks containing abusive and obscene language, personal attacks of any kind or promotion will be removed and the user banned. Final decision will be at the discretion of the Taipei Times.