Jakarta holds first funeral for bomb victims
JEMAAH ISLAMIYAH LINK Police said that explosive materials found at two bombed hotels in Jakarta were identical to those used in the attacks in Bali
The first of the Jakarta hotel bombings' seven victims was buried yesterday, just days after he again became a father.
The wife of 38-year-old Evert Mocodompis could not attend his funeral because she gave birth to their second child the day before he was killed, local media reported.
He died while working in the restaurant of the JW Marriott hotel on Friday. Family and friends sang hymns and tossed flowers on his grave.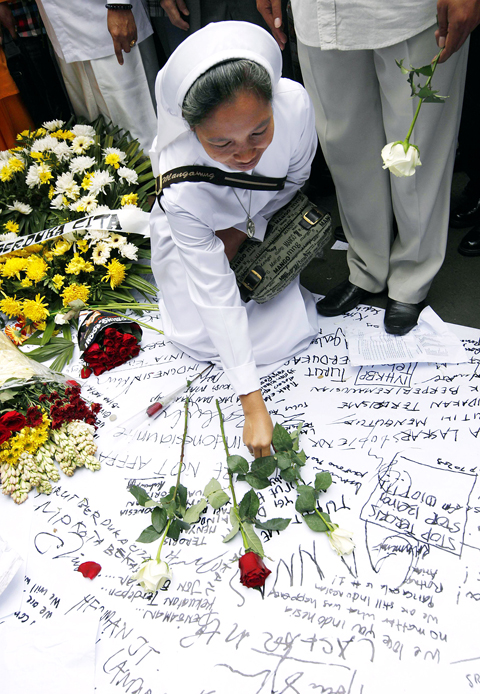 A nun places a flower on a banner in honor of victims of the bomb blasts outside the JW Marriott hotel in Jakarta yesterday.
PHOTO: REUTERS
Police continued to piece together bomb fragments, body parts and other clues gathered from the Marriott and the Ritz-Carlton, which was bombed within minutes of Friday's first blast.
Police have said explosive material recovered at the hotels is "identical" to that used by the Southeast Asian terrorist network Jemaah Islamiyah (JI) in earlier attacks.
An unexploded bomb left in a room of the Marriott resembled devices used in attacks on Bali in 2002 that killed 202 people and one found in a recent raid against the network on an Islamic boarding school in Central Java, national police spokesman told a news conference on Sunday.
The culprits in Friday's attacks that killed seven and wounded 50 are believed to have belonged to JI "because there are similarities in the bombs used," Major General Nanan Sukarna said.
The decapitated bodies of the two alleged suicide bombers were also recovered at the scenes, police said.
Anti-terrorism police were hunting for Noordin Mohammad Top, a fugitive Malaysian who heads a particularly violent offshoot of the network and has been linked to four major strikes in Indonesia since 2002.
The twin suicide bombings came four years after the last serious terrorist attack in Indonesia and unleashed a new wave of anxiety in the world's largest Muslim-majority country.
After years of sectarian violence and annual terrorist strikes, the nation of 235 million had been enjoying a period of stability. Indonesian President Susilo Bambang Yudhoyono was re-elected to a second term earlier this month, partly on the strength of government efforts to fight terrorism.
"I am shocked by these bombings," Razif Harahap, a 45-year-old graduate student, said in Jakarta on Sunday. "The same people who carried out these attacks could launch another one, because the mastermind is still at large."
Investigators are trying to identify the two bombers, one of whom is believed to be Indonesian. Knowing who they are could help determine if they had links to Noordin.
The Antara news agency said on Sunday that the government was intensifying efforts to find Noordin and trace the network's finances.
Officials have identified the bodies of four other victims, including three Australians and one New Zealander.
Among the dead was Craig Senger, the first Australian government official to be killed in a terrorist attack, Australian Prime Minister Kevin Rudd said on Sunday.
Senger worked as a trade commission officer at the embassy in Jakarta.
Comments will be moderated. Keep comments relevant to the article. Remarks containing abusive and obscene language, personal attacks of any kind or promotion will be removed and the user banned. Final decision will be at the discretion of the Taipei Times.