Urumqi tense after riots
State media says the Xinjiang government has raised the injured toll in last week's riots in the restive Chinese region to 1,680.
The Xinhua news agency said yesterday the number of people wounded during the ethnic violence that broke out on July 5 in the regional capital of Urumqi has increased by nearly 600 from a previous total of more than 1,100, the government of the Xinjiang Uygur Autonomous Region said.
The protests on July 5 by minority Uighurs escalated into deadly attacks on members of the Han Chinese majority.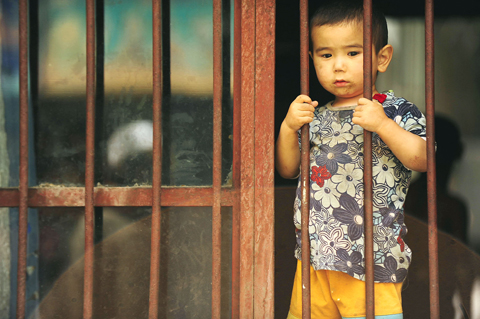 A young Uighur boy looks out from his home in the Uighur area of Urumqi in China's Xinjiang region yesterday.
PHOTO: AFP
The worst ethnic unrest to hit China in decades left 184 people dead, including 137 Han and 46 Uighur victims, state media said. Uighurs have said they think many more of their group died.
Meanwhile, residents of Urumqi were banned from gathering in public places yesterday for a traditional day of mourning.
Highlighting the extremely fragile nature of an enforced peace between Muslim Uighurs and Han Chinese, riot police also stepped up security in particularly sensitive parts of the city.
"Assemblies, marches and demonstrations on public roads and at public places in the open air are not allowed without police permission," a notice posted on streets of Urumqi said.
It said that police would disperse public gatherings and detain people who refused to move away, and specifically mentioned that no-one was allowed to carry weapons.
Yesterday was the seventh day since riots.
In Han culture, the seventh day is an important time for mourning the dead.
Relatives are meant to go out into the streets to burn incense and paper money, helping lost souls of the deceased to find their way back home.
But the government was apparently fearful this could ignite further unrest after thousands of Han took to the streets of Urumqi early last week wielding machetes, poles and other makeshift weapons vowing vengeance against Uighurs.
Han mobs were witnessed assaulting two Uighurs in separate attacks then and Uighurs said many other beatings took place despite a huge security presence. The government has not said if anyone died in clashes after the initial July 5 unrest, but Uighurs in the city said that mobs of Han did kill people.
"We are scared. We don't want to go to the train station or other areas where there are a lot of Han," said a college-educated Uighur man who did not want his named published. "It's going to be pretty tense for a while. I think you are going to see people spending more time indoors watching TV."
But the fear was just as deep on the other side of the ethnic divide.
"No, no, no. It's still dangerous," a Han supermarket owner surnamed Lin said when asked if he would venture into the Uighur district of the city's 2.3 million people. "I had friends who went there yesterday who were threatened by Uighurs and they had to run out of there."
In one of the most visible signs of increased security in Urumqi yesterday, police again blocked off major roads leading into the main Uighur district after allowing relatively free passage over the previous two days.
Han mobs had descended on to those roads early in the week in their hunt for Uighurs, before mostly being turned back by riot police and soldiers.
Xinjiang has 8 million Uighurs who make up roughly 40 percent of the vast region's population.
They have long complained about repression and discrimination under Chinese rule, accusations the government insists are baseless.
Residents in other cities and towns across Xinjiang, a sparsely populated region of deserts and mountains that makes up a sixth of China's territory, also reported intense security and a mood of fear yesterday.
"There are more policemen patrolling the streets. The shops are closing maybe one or two hours earlier than normal," a Han Chinese shopowner in Kashgar said.
Also See: Rumors, lies and ethnic hatred: Welcome to Shaoguan, China
Comments will be moderated. Keep comments relevant to the article. Remarks containing abusive and obscene language, personal attacks of any kind or promotion will be removed and the user banned. Final decision will be at the discretion of the Taipei Times.