Six dead, 40 hurt in Philippines attacks
SOUTHERN BLASTS: Security officials were quick to point the finger for the bombings at the Abu Sayyaf militant group. A third bomb near a church was difused
At least six people were killed and more than 40 wounded by twin bomb blasts in the Philippines yesterday, in what officials described as coordinated attacks by al-Qaeda-linked militants.
The first bomb exploded in a commercial area on Jolo island, killing six people and wounding around 30, police said. It was followed around two hours later by car bomb blast next to a parked military patrol jeep in Iligan city.
The second blast wounded at least 10 people, including three soldiers, the military said.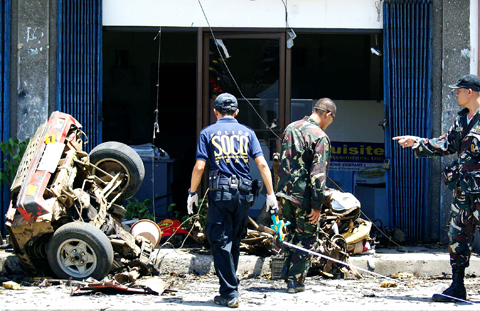 Philippine police and military investigators look for evidence at a bomb blast site in Iligan City yesterday where 10 people were injured. Six people were killed and more than 30 injured in another bomb blast in Jolo yesterday.
PHOTO: EPA
Jolo, in the southern Philippines, is a stronghold of Abu Sayyaf Muslim rebels and local anti-terror task force chief Major General Juancho Sabban was quick to point the finger at the militant group.
"This is a signature bomb attack of the Abu Sayyaf," Sabban said, speaking on local radio.
He said that the bomb was hidden beneath the saddle of a motorcycle that was parked outside a downtown hardware store.
US forces, who have been involved in training missions on Jolo since 2003, were seen securing the bomb site and helping to gather evidence from the rubble. One bloodied body was seen lying on the ground as a bomb disposal robot searched for possible secondary bombs, witnesses said.
In Manila, Philippine President Gloria Arroyo convened a top-level security meeting and ordered troops and police to hunt down those behind the attacks, Defense Secretary Gilberto Teodoro said.
She also placed all security forces across the south on heightened alert, and canceled all leave for military and police personnel.
Abu Sayyaf has been blamed for a string of bombings and kidnappings, most recently of three Red Cross workers on Jolo island in January. They are still holding one of them, an Italian.
Regional police spokesman Superintendent Bayani Gucela said six civilians were killed in the Jolo blast, while at least 30 others were wounded. Police in Iligan, also in the south, said at least 10 people were wounded there.
"The [Jolo) commercial district area was packed with people when the explosion happened," Sabban said on local radio. "All our doctors and nurses are already there in the area taking care of the victims."
Police disarmed another bomb near Jolo's Mount Carmel Catholic cathedral while a third suspicious package was also found and safely detonated.
The bombings came just two days after a bomb exploded outside a Roman Catholic cathedral in Cotabato city, also in the south.
The number of deaths in that attack, which was blamed on the Moro Islamic Liberation Front (MILF), another Islamic rebel group, rose to six yesterday, when one of the more than 50 people wounded died of his injuries, officials said.
Arroyo's senior adviser for the south, Jesus Dureza, said the spate of bombings appeared to be coordinated.
"This is no longer isolated, but orchestrated," Dureza told reporters in Cotabato.
He said foreign militants from the Jemaah Islamiyah (JI) militant group had recently trained dozens of local bombers for missions in the south. Since January, there had been about 56 bombings in the south, some of them targeting troops, but most of them killing or maiming civilians, Dureza said.
Sabban said it was not clear whether the Abu Sayyaf attack on Jolo was linked with the MILF attack, although both groups were known to have helped each other in the past.
The MILF has also admitted to training with the JI in the past, and military intelligence officials have said dozens of foreign militants remain in the south.
The Abu Sayyaf has been on the run from a military offensive launched after they kidnapped Italian aid worker Eugenio Vagni in January. A Filipina and a Swiss colleague abducted with Vagni were separately freed in April.
Comments will be moderated. Keep comments relevant to the article. Remarks containing abusive and obscene language, personal attacks of any kind or promotion will be removed and the user banned. Final decision will be at the discretion of the Taipei Times.