Cuban dissident reunited with family
FREE TRAVEL While happy to see her ailing mother in Argentina, Dr Hilda Molina said that being allowed to leave Cuba was not a signal of broader changes in government
A Cuban dissident surgeon said on Sunday that she harbors no grudge against former Cuban president Fidel Castro upon arriving in Argentina for an emotional family reunion after being denied permission to leave Cuba for more than a decade.
Desperate to see her ailing, 90-year-old mother, Hilda Molina said she wrote directly to Cuban leaders seeking permission to travel. On Sunday, she was able for the first time to hug her Argentine-born grandchildren, ages 13 and 8, and see her mother, who was allowed to leave Cuba months ago.
"I have inside a wound that will never heal," Molina told reporters after meeting with her son for the first time in 15 years.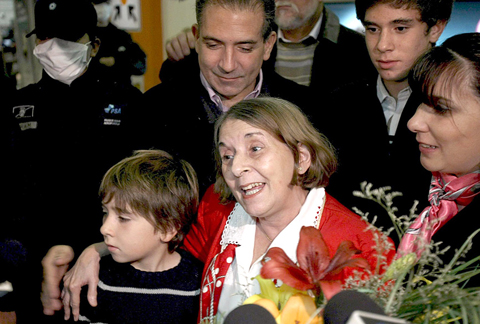 Cuban dissident doctor Hilda Molina, center, poses with her son Roberto Quinones, rear left, and his family upon her arrival at Ezeiza International Airport in Buenos Aires, Argentina, on Sunday.
PHOTO: EPA
"I say to Mr Fidel Castro, who has been the scourge of my family, may he have all the peace in the world. May he choose the path that the country needs. I don't need to forgive him for anything," she said.
Cubans like Molina who dare to openly criticize Cuba's system are often denied permission to leave the country. Cuba also restricts individual foreign travel by its physicians, saying it spends too much training them to allow them to emigrate for higher salaries elsewhere.
The surprise travel authorization, issued on Friday, was seen as a gesture of openness in the era after Fidel Castro ceded power to his brother, President Raul Castro, in 2006 for health reasons. It was also seen as a nod to Argentine President Cristina Fernandez, a Cuba ally who along with her husband and predecessor, Nestor Kirchner, had asked the Castros since 2003 to allow Molina to leave.
But Molina said her approval to travel in itself did not indicate broader changes by the Cuban government.
"That will be resolved when we Cubans do not have to ask permission to enter and leave the country," she said. "There are 11 million Cubans whose rights are being violated."
Molina, who once posed for high-profile photos with Fidel Castro, was a well-known physician at a government institution until 1994, when she resigned after questioning the ethics of using human stem cell tissue in studies on treating ailments like Parkinson's disease. That same year her son left Cuba with his Argentine wife.
Molina's travel documents are good for several months. She said she intends to return to Cuba, but not while her mother is in precarious health.
"I put it in the letter to Raul Castro ... that when I close the eyes of my mother I will return," Molina said. "I want her to recover and to return together. But as long as she is in danger I am not going to abandon her."
Comments will be moderated. Keep comments relevant to the article. Remarks containing abusive and obscene language, personal attacks of any kind or promotion will be removed and the user banned. Final decision will be at the discretion of the Taipei Times.