Australia set to raise level of flu alert
'CONSISTENT ALERT' Canberra said that, with nearly 1,500 cases of the swine flu confirmed nationwide, the whole country would raise its alert to match Victoria's
Australia said yesterday it was set to raise its swine flu alert level as the number of victims hit by the pandemic continued to mount, while Thailand urged calm after a sharp increase in cases.
Australian Health Minister Nicola Roxon said that, with the national tally nearing 1,500 cases, the whole country would soon move to the "sustain" phase, in line with hot spot state Victoria.
The "sustain" phase, Australia's second-highest, gives authorities the power to cancel sports events, close schools and restrict travel.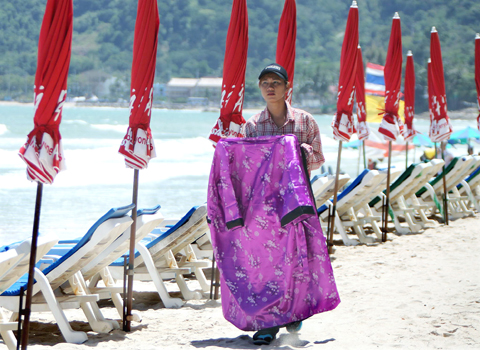 A vendor carries a silk coat as he looks for tourists along a largely empty strip of Patong Beach on the island of Phuket in Thailand yesterday. Cases of swine flu have been confirmed at Pattaya and Phuket.
PHOTO: EPA
Government officials said, however, that extreme measures such as closing national borders were unlikely.
The WHO raised its global alert to a maximum level six on Thursday, saying swine flu had reached pandemic status because of its geographical spread.
Swine flu has so far infected almost 30,000 people in 74 countries and claimed 145 lives since it was first detected in Mexico in April, according to WHO figures released on Friday.
A total of 1,458 cases of the virus have been counted in Australia, the worst-hit Asia-Pacific country, with the fifth-highest number of cases worldwide.
"As the numbers gradually increase in jurisdictions there will be steps over the coming days to move to a consistent alert level," Roxon said.
"It's inevitable that the disease will spread. That's the nature of this type of flu," she said.
Meanwhile, Thai Prime Minister Abhisit Vejjajiva urged the country not to panic after swine flu cases suddenly soared and a cluster emerged in a key tourist hub.
Health authorities reported 106 confirmed cases of the virus late on Saturday — nearly seven times the tally just three days earlier.
Officials last week said 21 of the new infections were found among nightclub workers in the coastal city of Pattaya, who were tested after two Taiwanese tourists said on returning home they had contracted the disease there.
"People should not panic. The death ratio for the new flu is probably lower than normal flu," Abhisit said in his weekly television program.
He said the government was taking extra measures whenever cases were reported to stop the spread of the disease.
Comments will be moderated. Keep comments relevant to the article. Remarks containing abusive and obscene language, personal attacks of any kind or promotion will be removed and the user banned. Final decision will be at the discretion of the Taipei Times.