EU-Hezbollah meeting leaves Israel 'perplexed'
BEIRUT GET-TOGETHER Lebanese lawmaker Hussein Hajj Hassan said his meeting with Javier Solana was simply an attempt by the EU to get to know Hezbollah
Israel was left "perplexed" by EU foreign policy chief Javier Solana's unprecedented meeting with an official from Lebanon's Hezbollah, a foreign ministry spokesman said on yesterday.
Saturday's meeting in Beirut between Solana and Hezbollah Member of Parliament Hussein Hajj Hassan was part of an outreach by European powers to Hezbollah, which the US and Israel consider a terrorist group.
Solana was in Beirut to reaffirm Europe's support for Lebanon after the June 7 parliamentary polls.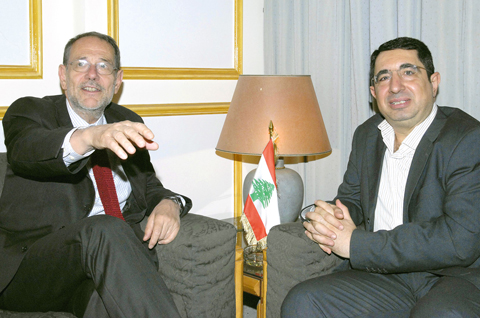 EU foreign policy chief Javier Solana, left, meets with Hezbollah Member of Parliament Hussein Hajj Hassa at the parliament in Beirut, Lebanon, on Saturday.
PHOTO: AP
"This meeting left us perplexed, and we dare hope that Mr. Solana took advantage of the occassion to press for a disarming of Hezbollah and for the end of the arms smuggling between Syria and Hezbollah," Yigal Palmor said.
"Lists of terrorist groups are not the same in every country," Solana told a news conference when asked about the US blacklist of the Shiite militant group.
"Hezbollah is a member of the Lebanese society and it is represented in the Lebanese parliament and it will bear responsibilities," he said before leaving for Egypt at the end of a two-day visit.
Britain has also had contacts in recent months with Hezbollah's political wing in what it has described as an attempt to encourage the group to abandon violence and play a constructive political role in the deeply divided country.
The group's political role was left uncertain after Hezbollah and its allies suffered a major setback in last week's parliamentary election. The pro-Western coalition that defeated it could form a national unity government that includes Hezbollah and its partners.
Fears that a Hezbollah victory could have increased the influence of the group's Iranian backers helped swing the vote against it.
Hassan said his meeting with Solana was a "goodwill gesture from the European Union toward Hezbollah" and an attempt by the EU "to get to know Hezbollah better and to keep contacts with it."
Hassan said he briefed Solana on what he said were Israel's almost daily military flights over Lebanon in breach of a UN resolution that ended the Israel-Hezbollah war in 2006.
He also spoke of the alleged Israeli spy networks in Lebanon.
Lebanese authorities have arrested about 100 people suspected of spying for or collaborating with Israel in recent weeks.
Hassan also told Solana that the sensitive issue of whether to disarm Hezbollah was being dealt with in political discussions led by Lebanese President Michel Suleiman.
Political factions have so far failed to agree on a defense strategy to possibly integrate Hezbollah's arsenal of rockets into the Lebanese armed forces.
Hezbollah has rejected local and international calls to disarm, saying its weapons are essential to defend Lebanon against any Israeli attack. The group led a guerrilla war against Israel's 18-year occupation of a border strip in southern Lebanon that ended in 2000.
Comments will be moderated. Keep comments relevant to the article. Remarks containing abusive and obscene language, personal attacks of any kind or promotion will be removed and the user banned. Final decision will be at the discretion of the Taipei Times.