Record turnout likely in Iran vote
Less than five hours after polling stations opened in Iran for yesterday's presidential election, voters had already turned out in unprecedentedly high numbers, witnesses said.
In the capital, Tehran, long queues formed even before the polling stations opened at 8am, several witnesses said.
The high participation early in the day confirmed predictions by the Iranian Interior Ministry that there would be a record turnout in this year's presidential polls.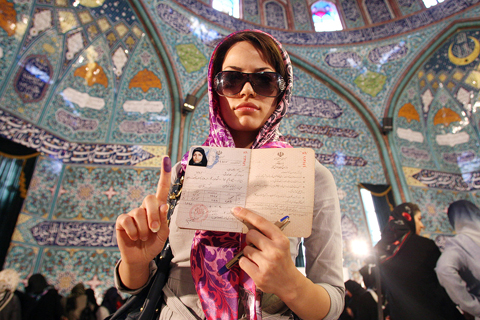 An Iranian woman shows the ink on her finger after voting at a polling station in Tehran yesterday. Hundreds of voters were lining up outside one of the biggest polling stations in uptown Tehran, an indication of a high voter turnout in the early hours of the presidential election.
PHOTO: AFP
About 46.2 million Iranians out of a total population of 70.4 million are eligible to vote.
Mir Hossein Moussavi, Mehdi Karroubi and Mohsen Rezaei are the three candidates challenging Iranian President Mahmoud Ahmadinejad.
Ahmadinejad, who cast his vote in a mosque in south-eastern Tehran, said the huge turnout showed the voters' willingness to continue the path of "pride, progress and prosperity."
Moussavi and his wife, Zahra Ranhnavard, cast their votes in a mosque in southern Iran.
"This enthusiasm of the people reflects their willingness for change in Iran," Moussavi said.
"I ask all my supporters to keep on voting, and if I am elected, I will try my best to solve the problems," Moussavi said.
He complained that the SMS system in Tehran and some other cities had been cut since Thursday evening and that some of his representatives were not allowed to make inspections of the polling stations.
The Telecommunication Ministry had reportedly confirmed the technical problems regarding the SMS system and said efforts were under way to restore it.
Former Iranian president Akbar Hashemi Rafsanjani, meanwhile, said the election would help determine the country's future.
"In my opinion, this year's election is one of the most important in our country's history and will definitely have an important impact on Iran's future role in world developments," Rafsanjani said after casting his vote in northern Tehran.
Rafsanjani is one of the harshest critics of Ahmadinejad and backs Moussavi.
"Every single vote counts, and everybody should be aware of the important impact of his vote," the moderate cleric said.
There are 45,713 polling stations throughout the country and 304 for Iranians abroad, including 32 in the US.
The Interior Ministry said the results would gradually be announced today.
In case none of the four candidates receives an absolute majority in the first round of voting, a run-off will be held June 19 between the two candidates with the most votes.
Comments will be moderated. Keep comments relevant to the article. Remarks containing abusive and obscene language, personal attacks of any kind or promotion will be removed and the user banned. Final decision will be at the discretion of the Taipei Times.