China urges repatriation of jailed Uighurs
TEMPORARY HOME The Palauan president cited humanitarian reasons for accepting the prisoners, saying they had basically become homeless people and needed refuge
China urged the US yesterday to repatriate Uighur "terrorist suspects" soon, after the tiny Pacific nation of Palau agreed to temporarily resettle up to 17 detainees from Guantanamo Bay.
"China urges the US to implement the UN Security Council's relevant resolutions and its international obligations on counter-terrorism," Chinese Foreign Ministry spokesman Qin Gang (秦剛) told reporters. "[The US should] stop handing over terrorist suspects to any third country so as to [repatriate] them to China at an early date."
The US cleared the men of wrongdoing four years ago but they remained at the controversial Guantanamo Bay camp in Cuba because of fears they would be tortured if handed to Beijing.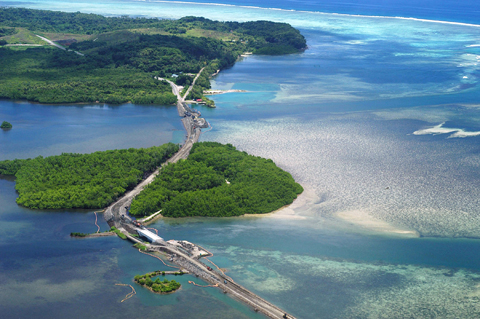 Two causeways built on the northeast coast of the island of Babeldoab, the largest of Palau's more than 300 islands, are pictured in 2005.
PHOTO: AP
The detainees were part of a group of 22 Uighurs living in a self-contained camp in Afghanistan when the US-led invasion of the country began in October 2001 in the wake of the Sept. 11 attacks.
Five of the Uighurs have been resettled in Albania, which was reluctant to accept any more after incurring the anger of China.
Xinjiang, a vast area of western China that borders Central Asia, has about 8.3 million Uighurs, and many members of the mainly Muslim community say they have suffered under Chinese political and religious persecution for decades.
Palau's president said yesterday his nation would take in the 17 detainees from Guantanamo Bay because they have become "international vagabonds" who deserve his country's age-old tradition of hospitality.
Palauan President Johnson Toribiong said, however, that the Uighur detainees would start their new lives in a half-way house to test how they acclimatize to his tropical archipelago west of the Philippines.
"It's an old age tradition of Palauans to accommodate the homeless who find their way to the shores of Palau," Toribiong said in a telephone interview. "We did agree to accept them due to the fact that they have become basically homeless and need to find a place of refuge and freedom."
Toribiong said earlier in the week that Palau had agreed to a US request to temporarily resettle the detainees, who were captured in Afghanistan and Pakistan in 2001 though the Pentagon later decided they were not enemy combatants.
The Obama administration faced fierce congressional opposition to allowing them on US soil as free men and sought alternatives abroad, while China has demanded that the men be extradited to their homeland and pressured countries not to accept them.
"We understand these 17 people are not terrorists but separatists from their national government in China," Toribiong said.
Comments will be moderated. Keep comments relevant to the article. Remarks containing abusive and obscene language, personal attacks of any kind or promotion will be removed and the user banned. Final decision will be at the discretion of the Taipei Times.