Thousands affected by tube strike
WALKOUT Millions of commuters faced a second day of disruption yesterday as there were no signs of the RMT union and London's transport body restarting negotiations
London endured its most disruptive bout of industrial action for nearly two years on Wednesday as a tube strike hit thousands of fans attending last night's England World Cup qualifier at Wembley and threatened to cost the UK economy up to £100 million (US$164 million).
Millions of commuters faced a second day of disruption yesterday despite an offer of peace talks to halt a 48-hour strike by London Underground staff. Tube users queued at heaving bus stops and rail platforms as they sought alternative routes to the office, with complete or partial shutdowns on nine of the tube network's 11 lines.
Cycling campaigners escorted hundreds of amateur riders into central London on five routes. Extra riverboat services were also laid on, with London Mayor Boris Johnson among those trying out one of the capital's least-used modes of transport. Despite thousands of Londoners donning cycling helmets or trainers to walk to work, business leaders warned that the strike could cost the economy up to £100 million in lost productivity.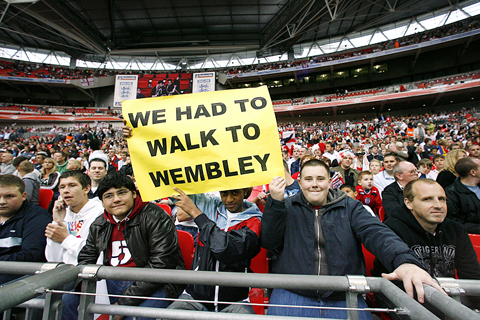 Fans show how they got to the stadium because of the tube strike before England's World Cup Qualifying match against Andorra at London's Wembley Stadium.
PHOTO: AFP
The walkout affected 1.5 million commuters, with an estimated one in 10 staying at home, and brought recriminations on both sides. Johnson condemned the "ludicrous and unnecessary" strike by members of the RMT union following the collapse of negotiations over pay and conditions at the 11th hour.
RMT leader Bob Crow accused the mayor's Transport for London (TFL) body of sabotaging talks when it appeared that a deal over protection from compulsory redundancies was within reach. RMT offered to reopen talks on Wednesday night but there was still no sign of a deal to avert a second day of industrial action.
The Football Association faces the prospect of paying back more than £1 million to supporters who had bought tickets for Wednesday's World Cup qualifying game against Andorra at Wembley. Wembley Way, normally heaving with fans well before kick-off, was relatively quiet some two hours before the game against the side ranked 196 in the world. The roads around the stadium were choked with traffic as kick-off approached, with people taking advantage of the car parks within the industrial estates on the Wembley site.
Football Assocation chief executive Ian Watmore pledged to refund supporters who decided against attending. Some 70,000 tickets for the fixture had been sold before it became clear the strike was likely to take place.
TFL claimed a partial victory on Wednesday as it became clear that the RMT had failed to shut down the entire network. Three trade unions refused to back its walkout. Two key transport arteries, the Jubilee and Victoria lines, were operating and there were services running on sections of seven other lines, allowing TFL to run a third of all its trains by Wednesday afternoon.
London Transport Commissioner Peter Hendy said most workers would be able to reach their offices by public transport yesterday.
Despite repeated claims by London transport bosses and the RMT that they were ready for talks, there was no sign of negotiations taking place to break the deadlock and allow normal services to resume.
Comments will be moderated. Keep comments relevant to the article. Remarks containing abusive and obscene language, personal attacks of any kind or promotion will be removed and the user banned. Final decision will be at the discretion of the Taipei Times.