Integrity questioned in Iranian election debate
Iranian President Mahmoud Ahamdinejad clashed with reformist rival Mehdi Karroubi in a televised debate on Saturday, defending his controversial economic policies and questioning the cleric's integrity.
Karroubi accused Ahmadinejad of dishonesty after the president painted a picture of the economy the cleric said was unreal.
Ahmadinejad, 52, seeking a second four-year term, said Iran's economy had actually grown under his administration, a claim contrary to reports by economists who have blamed him for an economic crisis.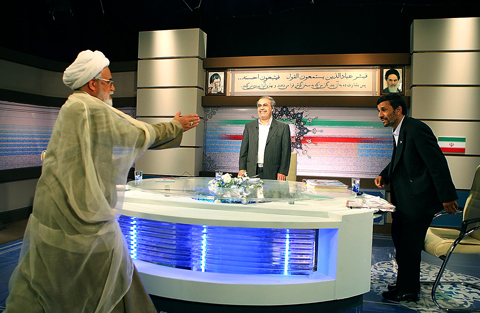 Presidential candidate Mehdi Karroubi walks toward Iranian President Mahmoud Ahmadinejad to shake hands before their TV debate in Tehran on Saturday.
PHOTO: AFP
In a rare series of debates aired on state television ahead of June 12 poll, he paraded a series of colorful charts claiming Iran's GDP had risen to an annual average of "around 6.25 percent from 5.61 percent in the previous government."
He said inflation had "come down and was less than 15 percent now," adding that pensions had jumped by "nearly 256 percent."
Central bank figures show Iran is reeling under inflation of around 25 percent. The unemployment rate is around 12.5 percent.
"The salaries of people from the lowest strata of society rose under the present government," Ahmadinejad said.
Karroubi, 72, is dubbed the "sheikh of reforms" in Iran. He tried to counter Ahmadinejad in the occasionally fiery debate, saying the "government must be honest to the people" and said "lying is the worst sin in Islam."
Dismissing the figures given by Ahmadinejad, the cleric said: "I have been working in the parliament for 16 years ... all the figures that you have given are contradictory to the ones we have seen over the years."
Karroubi ran for president in 2005, but was defeated in the first round. He claimed that was due to "bizarre irregularities" in the voting process.
Meanwhile, Iranian media said yesterday that Ahmadinejad's main challenger has warned the president may be trying to incriminate his supporters ahead of Friday's election.
The report in several Internet news sites and newspapers says Mir Hossein Mousavi wrote a letter to Iran's top leader, Ayatollah Ali Khamenei, saying there is a possibility Ahmadinejad and his supporters are trying to fabricate evidence against Mousavi's supporters.
Comments will be moderated. Keep comments relevant to the article. Remarks containing abusive and obscene language, personal attacks of any kind or promotion will be removed and the user banned. Final decision will be at the discretion of the Taipei Times.