Japan, China discuss trade ties
OTHER TOPICS: On the sidelines of the talks, ministers held a series of meetings on subjects including how to deal with North Korea following its latest nuclear test
Top ministers from Japan and China began a day-long meeting yesterday to discuss the global financial crisis and ways to boost trade ties between the world's No. 2 and No. 3 economies.
The Japan-China High-Level Economic Dialogue in Tokyo drew an 80-strong Beijing delegation led by Vice Premier Wang Qishan (王岐山).
Measures to cope with the global economic crisis, trade and investment ties between the two Asian economic giants and cooperation on environmental and energy issues were to top the agenda, officials said.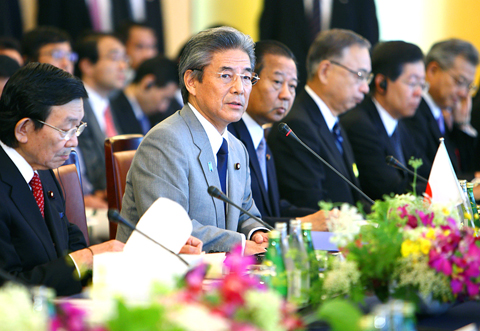 Japanese Foreign Minister Hirofumi Nakasone, second left, takes part in the second Japan-China High Level Economic Dialogue in Tokyo, Japan, yesterday. Ministers and other top officials from Japan and China held a one-day meeting.
PHOTO: BLOOMBERG
"We hope that both countries will cooperate hand-in-hand for financial stability and economic growth in Asia and the world," Wang said yesterday at the opening of the meeting with host officials led by Japanese Foreign Minister Hirofumi Nakasone.
On the sidelines, ministers were holding a series of bilateral meetings, including how to deal with North Korea in light of the secretive regime's recent nuclear test and test-firing of missiles.
China, one of the UN Security Council's five veto-wielding permanent members and a Pyongyang ally, has in the past blunted calls led by Washington and Tokyo for strong punishment of the isolated regime over its nuclear program.
Chinese Commerce Minister Chen Deming (陳德銘) and Japanese Minister of Economy, Trade and Industry, Toshihiro Nikai, agreed on the launch of annual official talks on jointly cracking down on copyright and trademark piracy.
"It is very significant that we exchanged a memorandum of understanding today on intellectual property rights ... as this is an issue of international interest," Nikai told reporters after a 50-minute meeting with Chen.
"This memorandum does not solve everything but we will set up a working group soon for detailed talks," he said.
The first round of talks are expected later this year, a Japanese official said.
China is Japan's top trade partner, but Japanese companies have often protested over factories in China that produce knock-offs of products ranging from DVDs and clothes to electronics.
Nikai also reiterated Tokyo's call for China to scrap rules that require certification of information technology (IT) products to be used by the government in Beijing.
China said its inspectors had to examine and certify more than a dozen types of IT products, including anti-hacking software, before foreign firms could sell them to the government.
The US, Japan and other major IT manufacturers fear that China will use the process to learn trade secrets.
Separately, the governmental Japan Bank for International Cooperation and the Export-Import Bank of China are to agree to give financial support for development projects in poorer Asian countries, a Japanese official said.
It will be the first arrangement between Japan and China to jointly provide development assistance to third countries.
Comments will be moderated. Keep comments relevant to the article. Remarks containing abusive and obscene language, personal attacks of any kind or promotion will be removed and the user banned. Final decision will be at the discretion of the Taipei Times.