Islamabad police on alert after blast
VIGILANTES: Hundreds of villagers banded together to attack Taliban strongholds in Pakistan on Saturday in revenge for a suicide bombing in Upper Dir, officials said
Police in Islamabad were on high alert yesterday after a deadly suicide blast as the prime minister insisted a spike in attacks would not deter an ongoing anti-Taliban offensive.
Two policemen were killed late on Saturday when a suicide bomber walked up to a police emergency help-line center in an Islamabad residential district where many government officials live and detonated explosives strapped to his body.
Witnesses said police shot the suicide bomber before he was able to enter the compound but he was still able to detonate the bomb, which also injured three people.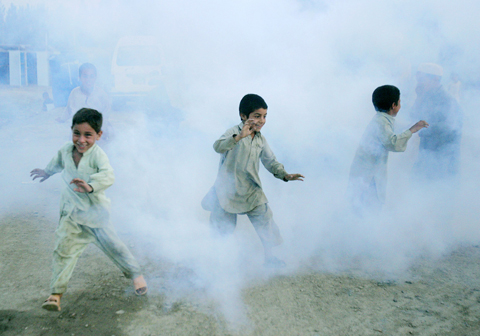 Internally displaced children whose families fled fighting in the Swat valley play in clouds of insecticide as the chemicals are sprayed at the UN's Sheikh Shahzad camp in Mardan, Pakistan, yesterday.
PHOTO: REUTERS
The night-time assault came after a suicide blast killed 38 people during Friday prayers at a mosque in Upper Dir, near three northwest districts hit by a six-week military offensive against Taliban fighters.
"Islamabad police are on high alert. We have taken tough security measures after the bombing on Saturday," a senior police official said, asking not to be named as he was not authorized to speak to the media.
"They are conducting surprise checks of vehicles. A combing operation is underway to trace the culprits. We are hopeful the accused would be arrested over the next few days," he said.
No group has claimed responsibility for the attack.
Saturday's bombing is the latest in a series of attacks on civilian and security targets — attacks widely seen as retribution by Islamist extremists for Pakistan's blistering air and ground offensive in northwestern Swat.
Since the offensive began in late April, more than a dozen bomb blasts have killed more than 100 people, with Peshawar, the main city in the northwest, Pakistan's cultural capital Lahore and now Islamabad all hit.
Pakistani Prime Minister Yousuf Raza Gilani condemned the Islamabad attack, calling it a "cowardly act of terrorism," a statement from his office said late on Saturday.
"The prime minister reiterated his government's resolve to stamp out the menace of militancy and terrorism, adding that such incidents will not deter the government's commitment to eliminate this scourge from the country," it said.
It was the first such attack in Islamabad in more than two months, after a suicide bomber killed eight paramilitary police at a camp on April 4 on the edge of an upmarket residential area.
Bomb attacks blamed on Islamist extremists have killed more than 1,900 people in Pakistan in the past two years.
Pakistan launched its northwest push after the Taliban advanced to within 100km of Islamabad in early April, violating a deal to put the region's 3 million people under Shariah law in exchange for peace.
Operations are now focused on the Taliban bastion of Swat valley, where Pakistani jets and helicopter gunships yesterday pounded militant strongholds and troops hunted down fighters allegedly holed up in the rugged mountains.
A senior military official said the jets were targeting Taliban in Qambar district outside the scenic valley's main town of Mingora, while helicopters shelled Barikot, about 20km north of the town.
Waqif Khan, a local police chief in Swat's Sher Garh town, said three civilians had been killed in the valley yesterday when security forces opened fire on them for violating a curfew.
Elsewhere in the troubled northwest, four people were killed in a clash between rival factions of the Pakistani Taliban in the tribal region of Bajaur near the Afghan border, local administration official Faramosh Khan said.
Meanwhile, hundreds of people banded together and attacked Taliban strongholds, killing 11 militants, to avenge the suicide bombing in Upper Dir, officials said yesterday.
Some 400 villagers near Upper Dir, where Friday's attack killed 33 worshippers, formed a militia and attacked five villages in the nearby Dhok Darra area, said Atif-ur-Rehman, the district coordination officer.
The citizens' militia has occupied three of the villages since Saturday and is trying to push the Taliban out of the other two.
Some 20 houses suspected of harboring Taliban were destroyed, he said.
At least 11 militants were killed, the district police chief, Ejaz Ahmad, said.
The government has encouraged local citizens to set up militias known as lashkar to oust Taliban fighters.
"It is something very positive that tribesmen are standing against the militants. It will discourage the miscreants," Rehman said.
Ahmad said around 200 militants were putting up a stiff resistance in their strongholds surrounded by the villagers.
Comments will be moderated. Keep comments relevant to the article. Remarks containing abusive and obscene language, personal attacks of any kind or promotion will be removed and the user banned. Final decision will be at the discretion of the Taipei Times.