Robinson's 'Home' wins Orange Prize for Fiction
US novelist Marilynne Robinson won the Orange Prize for Fiction on Wednesday for Home, the companion piece to her acclaimed Gilead.
Britain's annual award to the best novel written in English by a woman, worth £30,000 (US$50,000) to the winner, follows a Pulitzer Prize for Gilead, which appeared in 2004.
Home takes the reader back to the town of Gilead and tells the story of Glory, who returns home to nurse her ailing and aging father, Reverend Boughton.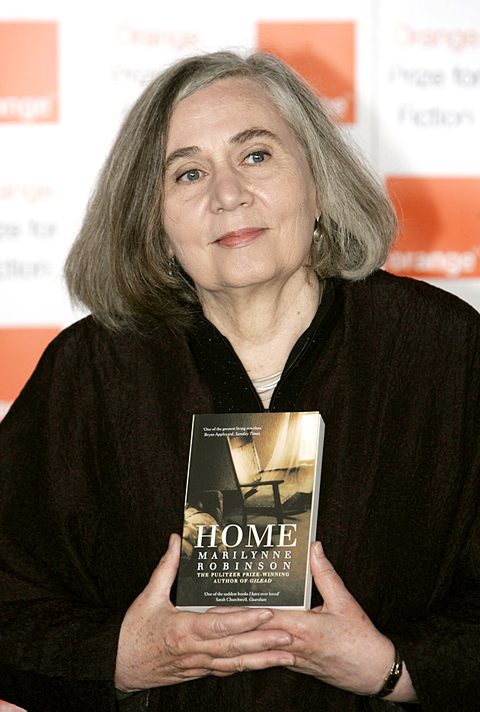 Author Marilynne Robinson holds a copy of her book Home at the 2009 Orange Book prize for fiction in London's Royal Festival Hall on Wednesday.
PHOTO: AP
Approaching middle age, she is also nursing the wounds of a failed engagement that makes a lonely, unhappy future all the more likely.
"What an embarrassment that was, being somewhere because there was nowhere else for you to be," her character reflects. "All those years of work and nothing to show for it."
She is joined by her brother Jack, a modern-day prodigal son who is back after an absence of 20 years to seek refuge from his troubles. Adored by his father, the reformed alcoholic struggles to understand why anyone could care so much for him.
Fi Glover, broadcaster and chair of the Orange Prize judging panel, called Home "a kind, wise, enriching novel, exquisitely crafted. We were unanimously agreed — it is a profound work of art."
Home is Robinson's third novel. Her first, Housekeeping, appeared in 1980 and won her an instant following as well as a Pulitzer Prize nomination.
It was another 24 years before Gilead appeared, earning the author a Pulitzer and the National Book Critics Circle Award, and Home, published last year, has been warmly received by critics, not least for the power of its language.
"Phrases many of us have heard and known since childhood come in her [Robinson's] hands to have the depth of dark sayings, and her parable of a family's partial restoration is also a story to trouble your sleep and afflict your conscience," wrote A.O. Scott in the New York Times.
Robinson was one of three US authors on the Orange shortlist of six.
Ellen Feldman was nominated for Scottsboro, a story set in 1930s Alabama, and Samantha Hunt was shortlisted for The Invention of Everything Else about a Serbian scientist who allowed other inventors to cash in on his ideas.
First-time novelist Samantha Harvey, from Britain, wrote about a man in his 60s with Alzheimer's disease in The Wilderness, Irish writer Deirdre Madden was shortlisted for Molly Fox's Birthday and Pakistani/British author Kamila Shamsie was nominated for Burnt Shadows.
Comments will be moderated. Keep comments relevant to the article. Remarks containing abusive and obscene language, personal attacks of any kind or promotion will be removed and the user banned. Final decision will be at the discretion of the Taipei Times.