Egypt accuses Hezbollah of plotting attack in Sinai
DESTABILIZING: The case has broader regional implications among Arab states that have failed to reconcile differences over how to deal with growing Iranian influence
Egypt released new details on Monday of what it said was a Hezbollah plot to smuggle weapons into the Gaza Strip, to attack Israeli tourist sites in the Sinai Peninsula and to fire on ships in the Suez Canal. Officials said the police were hunting for 10 Lebanese suspects believed to be hiding in the mountainous terrain of central Sinai.
The case gained wide attention after Hezbollah's leader, Hassan Nasrallah, acknowledged on Friday that he had sent an agent to Egypt to organize assistance for the Palestinians in their fight with Israel, and it quickly took on broader regional implications.
Hezbollah is a military, political and social organization in Lebanon with strong ties to Iran, a bloc in Lebanon's parliament and ministers in the Cabinet.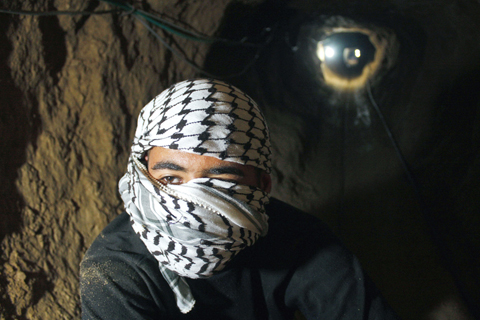 A Palestinian smuggler works in a tunnel in Rafah, southern Gaza Strip, on the border with Egypt, on Saturday.
PHOTO: AP
The case has complicated faltering efforts to reconcile differences among Arab states over how to deal with Iran's rising regional influence and the Palestinian problem.
It also highlighted the growing anxiety among some Arab leaders, especially Washington's traditional allies in Egypt, Jordan and Saudi Arabia, over Western outreach to Iran and Hezbollah.
"I think the Egyptian leadership wants to remind the public and its other partners that there is something serious going on here," said Gamal Abdel Gawad, head of the international relations section of the government-financed Ahram Center for Political and Strategic Studies in Cairo. "It wasn't just a war of words. There was an attempt to destabilize Egypt."
When Egypt announced late last week that it had uncovered the Hezbollah cell, the news was greeted skeptically in the region. In December, Hezbollah's chief effectively urged Egyptians to rise up against the government for not doing more to help Hamas as it battled Israel in Gaza. So the Egyptian announcement was widely perceived as payback.
"These accusations seem to be fabricated from beginning to end," read an editorial on Thursday in Al Quds al Arabi, a Palestinian-owned newspaper in Arabic.
A day later, Nasrallah confirmed that Egyptian authorities had arrested a Hezbollah member, a man he called Sami Shihab.
He denied that there had been any plans for attacks on Egyptian soil, but that did little to undermine Egypt's main charges.
Comments will be moderated. Keep comments relevant to the article. Remarks containing abusive and obscene language, personal attacks of any kind or promotion will be removed and the user banned. Final decision will be at the discretion of the Taipei Times.