Red-shirt protest blocks Thai PM's office
DEJA VU The demonstrators used cranes to remove shipping containers that police had deployed around Government House. They are demanding new elections
Tens of thousands of red-clad protesters surrounded the office of Thai Prime Minister Abhisit Vejjajiva yesterday, stepping up their campaign to topple his shaky three-month-old government.
Police said around 30,000 supporters of fugitive former prime minister Thaksin Shinawatra had started arriving at Government House in downtown Bangkok to press their demands for Abhisit to call snap elections.
Chanting "Get out! Get out!", the demonstrators used huge cranes to remove shipping containers that police had used to block off roads leading to the sprawling complex.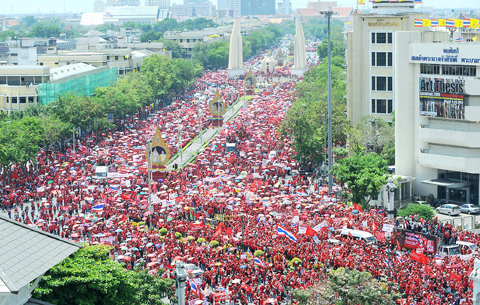 Supporters of former Thai prime minister Thaksin Shinawatra parade past Democracy Monument during a demonstration in Bangkok yesterday on their way to Government House. They are demanding Prime Minister Abhisit Vejjajiva call snap elections.
PHOTO: AFP
"Today we have only one aim, to oust this government," protest leader Jatuporn Prompan said.
He said that so-called "Red Shirts" from other parts of the country had defied efforts by the military and government to prevent them coming to Bangkok.
Thaksin, who was ousted in a 2006 coup and is living in exile to avoid a two-year jail sentence for corruption, was scheduled to address the protesters by videolink either yesterday or today, Jatuporn said.
The protest was one of the biggest of several held by Thaksin loyalists since Abhisit came to power in December following the dissolution of a pro-Thaksin government that the demonstrators say was undemocratic.
Around 6,000 soldiers and more than 2,000 police were guarding Government House while authorities had placed barbed wire atop the fences of the building, officials said.
Many protesters carried red, plastic foot-shaped clappers that have become the signature of their movement, while others sheltered from the afternoon heat beneath umbrellas.
Abhisit ruled out imposing a state of emergency.
"I am confident that the government will not have to declare a state of emergency, but whatever happens we are ready to cope," he told reporters earlier at Government House.
The British-born leader said he had given instructions for police and soldiers to be "extra patient because there are expected provocations."
Abhisit spoke shortly after handing out the first of around 10 million US$55 "gift checks" to low-income earners as part of an economic stimulus package, a move denounced by critics as vote-buying.
Yesterday's protest came just days after Abhisit easily saw off a no-confidence vote called by the opposition over allegations of corruption.
Abhisit's opponents also accuse him of being a puppet of the army, which led the ouster of Thaksin nearly three years ago following months of protests by the royalist People's Alliance for Democracy (PAD).
The yellow-clad PAD took to the streets again early last year after Thaksin's allies won the first post-coup elections, launching a campaign that peaked in the siege of the capital's airports in late November and early December.
Backed by elements in the palace, military and bureaucracy who resented Thaksin's influence, the PAD only lifted the blockade after a court dissolved the previous government led by Thaksin's brother-in-law.
Comments will be moderated. Keep comments relevant to the article. Remarks containing abusive and obscene language, personal attacks of any kind or promotion will be removed and the user banned. Final decision will be at the discretion of the Taipei Times.