Global warming could force Italians, Swiss to redraw their Alpine border
MATTERHORN MATTERS The boundary will shift anywhere from a few meters to 100m as warmer temperatures melt snowfields and glaciers
Melting glaciers in the Alps may prompt Italy and Switzerland to redraw their borders near the Matterhorn, parliamentary draft legislation being readied in Rome shows.
Franco Narducci of Italy's opposition Democratic Party is preparing a bill to redefine the frontiers with neighboring Switzerland, his office said on Tuesday. He is a member of the foreign affairs panel in Italy's lower Chamber of Deputies. Italian Foreign Minister Franco Frattini has authorized the bill.
The borders, first set in 1861 when Italy was a monarchy, have never previously been questioned.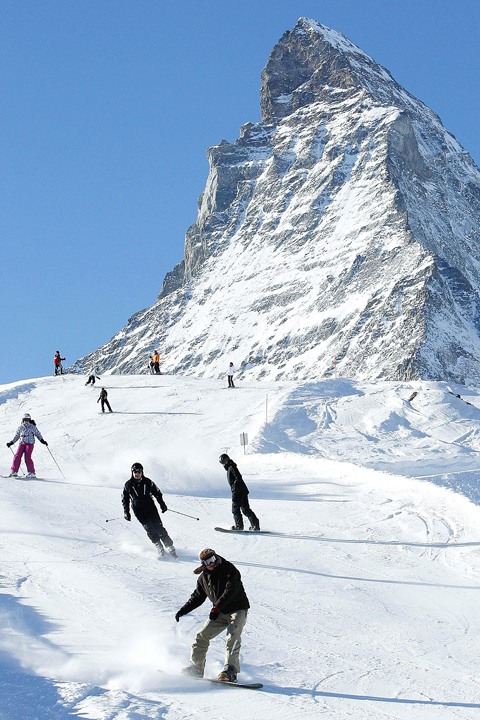 Skiers and snowboarders enjoy the perfect conditions in front of the Matterhorn in Zermatt, Switzerland, on Dec. 28 last year.
PHOTO: AP/KEYSTONE
Italian and Swiss scientists, however, have been studying how melting glaciers amid global warming may affect the mountains surrounding the Matterhorn, known by Italy as Cervino and defined by the English critic John Ruskin as "the most noble rock" in Europe.
Measurements taken by both countries near the Matterhorn show the border changes would be 100m at most or as little as a few meters, said Daniel Gutknecht, who is responsible for the coordination of national borders at Switzerland's Office of Topography, in a telephone interview from Wabern on Tuesday.
Swiss lawmakers needn't approve the changes of the border region, Gutknecht said.
The frontier with Italy is "high altitude, all snowfields or glaciers," he said. "The border is fixed but on the snowfields and glaciers the border is moving because of the warmer climate," among other causes.
"The lesson to be learned from this is that we need to do more to safeguard our environment," Narducci said on Tuesday in a telephone interview, adding that the bill should become law by the end of next month at latest.
The Matterhorn, at 4,478m, is one of the highest peaks in the Alps and also one of its deadliest, with more than 500 hikers having died climbing it since 1865, when Edward Whymper and his party first ascended the peak that towers over Zermatt, Switzerland.
Comments will be moderated. Keep comments relevant to the article. Remarks containing abusive and obscene language, personal attacks of any kind or promotion will be removed and the user banned. Final decision will be at the discretion of the Taipei Times.