Chavez uses navy to warn state governors
FEDERAL CONTROL: Under a new law, states and municipalities cannot collect money from transportation hubs, which are now to be controlled by the federal government
Venezuelan President Hugo Chavez on Sunday dispatched the navy to Venezuela's seaports, warning that state governors who challenge a new law bringing transportation hubs under federal control could end up in prison.
Speaking during his weekly television and radio program, Chavez ordered naval vessels to seize control this week of Port Cabello in Carabobo State and Maracaibo Port in Zulia State — two of Venezuela's largest seaports.
Then he singled out the opposition-sided governors of those states — Carabobo Governor Henrique Salas and Zulia Governor Pablo Perez — and told military officers they might decide to flout the newly approved law.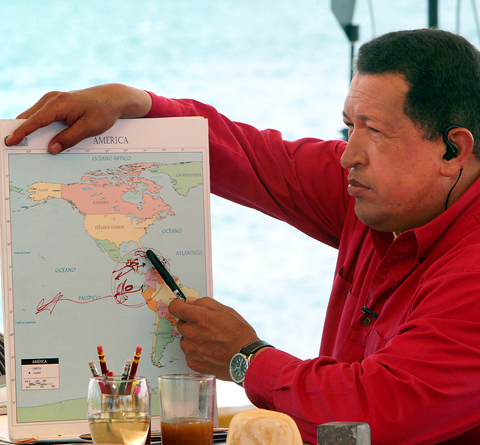 Venezuelan President Hugo Chavez points at Orchila Island on a map during his weekly broadcast program Alo Presidente in Cumana on Sunday.
PHOTO: AFP
"If he gets smart ... that deserves prison," Chavez said of Salas. "The same goes for the governor of Zulia."
Lawmakers loyal to Chavez voted last week to bring all airports, highways and seaports under federal control, a move government adversaries said was designed to expand the president's power.
"This is a national security issue," Chavez said on Sunday, defending the law.
The socialist leader accused "corrupt" governors of allowing drug smuggling through airports and seaports previously under their administration to thrive and he promised a government crackdown.
"We've given drug trafficking tough blows, but we must recognize that they still have some bases in the ports and airports," Chavez said.
Opposition governors warned that the law approved last week by the Chavista-dominated National Assembly is designed to strangle the president's foes financially and to undermine support from constituents who elected them in November.
Under the law, states and municipalities can no longer collect tariffs at transportation hubs or establish tolls along highways, meaning governors and mayors will have less money for local public projects.
Also on Sunday, Chavez said that Russian bombers would be welcome in Venezuela, but the socialist leader denied that his country would offer Moscow territory for a military base.
Chavez — a fierce critic of Washington, with close ties to Russia and Cuba — said his government did not raise the possibility, as Russian media had reported.
"It's not like that," the president said, responding to a report by Interfax news agency quoting the chief of staff of Russia's long range aviation, Major General Anatoly Zhikharev, as saying some strategic bombers could be based on an island offered by Venezuela.
Zhikharev reportedly said on Saturday that Chavez had offered "a whole island with an aerodrome, which we can use as a temporary base for strategic bombers."
Speaking during his weekly television and radio program, Chavez said he told Russian President Dmitry Medvedev that his nation's bombers would be allowed to land in Venezuela if necessary, but no such plans had been made.
Venezuela hosted two Russian Tu-160 bombers in September for training flights and joined Russian warships two months later for naval exercises in the Caribbean.
Comments will be moderated. Keep comments relevant to the article. Remarks containing abusive and obscene language, personal attacks of any kind or promotion will be removed and the user banned. Final decision will be at the discretion of the Taipei Times.