Trial opens for Rafik Hariri murder suspects
An international tribunal to prosecute suspects in the slaying of former Lebanese prime minister Rafik Hariri opened with a moment's silence and a pledge to impartially investigate the politically charged case.
Speaking at the opening ceremony of the Special Court for Lebanon on Sunday, prosecutor Daniel Bellemare said he would continue his investigations without political interference and said he would call "as soon as possible" for Lebanese authorities to turn over four pro-Syrian generals who are suspects in the case.
Bellemare, a Canadian, said he could issue several indictments as a result of his wide-ranging investigation into the Feb. 14, 2005, suicide bombing that killed Hariri and 22 others on a Beirut seaside street, but he would not say when.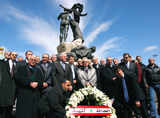 Members of the parliamentary majority stand at Martyrs' Square in downtown Beirut, Lebanon, on Sunday during a ceremony marking the opening in The Hague of the UN Tribunal into the 2005 assassination of former prime minister Rafik Hariri.
PHOTO: AFP
"I will submit an indictment when I am satisfied personally and professionally that I have enough evidence," he told reporters packed into a gymnasium that is to be transformed this year into the tribunal's high-security courtroom.
The generals led Lebanese police, intelligence service and an elite army unit at the time of the assassination. They are the only suspects in custody, though they have not been formally charged.
The new court has a wing ready to detain suspects in a Hague jail that already holds Bosnian Serb leader Radovan Karadzic and former Liberian president Charles Taylor, among other international war crimes suspects.
In Lebanon, hundreds of supporters of the anti-Syrian March 14 group gathered near Hariri's tomb in downtown Beirut where they watched the opening session from two giant screens.
Earlier, dozens of anti-Syrian lawmakers laid wreaths on Hariri's tomb and those of his bodyguards and aides who were killed with him four years ago.
Prominent anchorwoman May Chidaic, who survived a 2005 assassination attempt, praised the court's opening.
"The dream became true and the criminals now know that the hand of justice will get them," said Chidaic, who lost an arm and a leg when a bomb exploded under her car.
As prime minister, Hariri, a billionaire businessman, was credited with rebuilding downtown Beirut after the 1975 to 1990 civil war and with trying to limit Syria's influence.
Many in Lebanon believe Syria was behind the assassination.
Damascus has denied any involvement.
After the assassination, mass street protests in Lebanon and international pressure forced Syria to withdraw its troops from its neighbor after a 29-year presence.
Bellemare, who called the new court the world's "first international anti-terrorist tribunal," said that so far in the four-year investigation, Syrian cooperation has been "satisfactory," but he did not elaborate.
He declined to comment on what he would do if Syria failed to cooperate.
The French weekly Le Journal du Dimanche quoted Hariri's son, Saad, as saying the tribunal would ensure that his father and others did not die in vain.
Comments will be moderated. Keep comments relevant to the article. Remarks containing abusive and obscene language, personal attacks of any kind or promotion will be removed and the user banned. Final decision will be at the discretion of the Taipei Times.