Zurich investigating 'racist' assault on pregnant Brazilian
Zurich police on Thursday were investigating an alleged skinhead assault on a pregnant Brazilian woman that caused her to miscarry twins and left her scarred with the initials of Switzerland's main right-wing party.
Details of the attack shocked the Swiss public and prompted Brazilian officials to suggest it was prompted by xenophobia.
Zurich police said details were not yet clear, but a man called on Monday evening to report that a woman at a Zurich train station needed help. When police found her, she had the letters carved into her skin and told them she had suffered a miscarriage after the attack.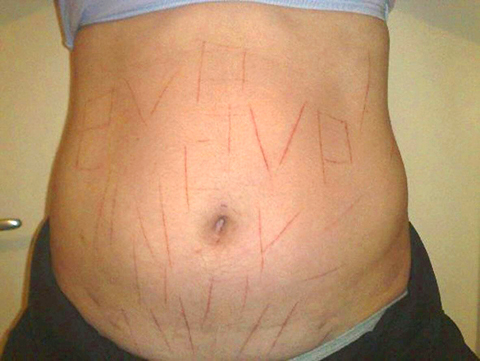 A picture released by O Globo Agency on Thursday shows the skin of Brazilian Paula Oliveira who was allegedly attacked on Monday in Zurich by a skinhead.
PHOTO: EPA
The Brazilian foreign ministry and media reported that three skinheads, one with a Nazi symbol tattooed on his forehead, attacked the woman outside a local train station in Zurich while she was heading home. She had been speaking in Portuguese to her mother on a cellphone when she was accosted.
The Brazilian foreign ministry expressed "great concern" about the attack in a hastily arranged meeting on Thursday in Brasilia with a Swiss diplomats. Brazilian Foreign Minister Celso Amorim urged Swiss investigators to act with "transparency" so both countries can learn exactly what happened.
"There is a very strong appearance of xenophobia," Amorim said.
"The person was not robbed, apparently she was not raped. That shows there was another motivation," he said.
Pictures of the smiling, pregnant woman were splashed across Brazilian newspapers on Thursday next to those of a bare stomach and legs with the initials SVP — presumably for "Schweizerische Volkspartei" (Swiss People's Party) — clearly visible in several places.
The woman has been identified by family members as 26-year-old Paula Oliveira, a lawyer working for European shipping giant A.P. Moller-Maersk A/S.
"What they did to my daughter is like a horror movie," the woman's father, lawyer Paulo Oliveira, told Brazil's Globo TV, adding that she was cut about 100 times in an attack that lasted 10 minutes.
The woman moved to Switzerland several years ago to work for Maersk and was pregnant with twins and planning to soon get married, her uncle Silvio Oliveira said.
The Swiss People's Party has taken a hardline against immigrants. It has spearheaded campaigns against Swiss integration in Europe and pressed to toughen asylum laws and make it easier to expel foreign nationals.
Comments will be moderated. Keep comments relevant to the article. Remarks containing abusive and obscene language, personal attacks of any kind or promotion will be removed and the user banned. Final decision will be at the discretion of the Taipei Times.