Netanyahu ruling out return of Golan Heights
ELECTION PLEDGE Seeking another shot at the prime minister's office, Netanyahu traveled to the Heights on Sunday to stress his differences with his main rivals
Former Israeli prime minister Benjamin Netanyahu, the front-runner in polls ahead of Israel's election this week, said on Sunday that he would not give up the Golan Heights for peace with Syria, an apparent attempt to shore up his right-wing credentials in the face of a last-minute charge by a hardline party.
Israelis go to the polls today after one of the calmest campaigns in their history, despite the vital issues facing Israel — war, peace, terrorism and economic recession. The electorate has appeared fatigued after a three-week offensive against Gaza's Hamas rulers last month.
Netanyahu has been leading in the polls since shortly after the election was called last November, but his lead has been shrinking in recent weeks as the hawkish Yisrael Beitenu, or "Israel is our home," surges with its campaign against Israel's minority Arab citizens.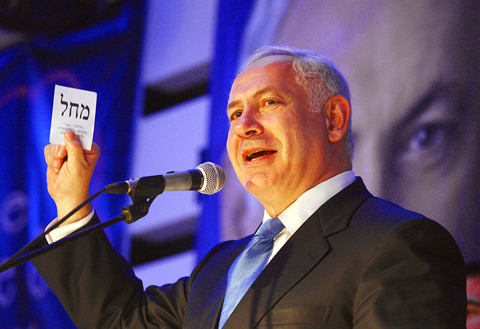 Likud Party leader Benjamin Netanyahu gives a speech during a campaign event in Haifa, Israel, on Sunday. Israel holds general elections today.
PHOTO: AP
Israel captured the Golan Heights from Syria in the 1967 war, after Syria gunners shelled Israeli villages below for 19 years.
Syria demands return of the territory as a prerequisite for peace, but many Israelis hesitate to give up such a strategic asset.
In turning rightward, Netanyahu could be setting up a confrontation with the Obama administration if he becomes Israel's leader.
He opposes talks on a peace treaty with the Palestinians and favors allowing Israeli settlements in the West Bank to expand, two points that are likely to clash with Washington policy.
Netanyahu's Likud Party has been the mainstream voice of Israel's right wing for decades, but the erosion in its support has led him to underline his hawkish positions in the final hours of campaigning.
With polls showing him holding a slim lead over Kadima, the present ruling party, and its candidate, Foreign Minister Tzipi Livni, Netanyahu traveled to the Golan Heights on Sunday to emphasize their policy differences.
Livni's campaign unveiled a new French slogan on a Jerusalem billboard: L'homme de la situation, or "The best man for the job," playing on the fact that if elected, she would become Israel's second female prime minister.
While Livni has not ruled out returning the Golan Heights in exchange for full peace, and the third candidate, Defense Minister Ehud Barak of Labor, offered the Syrians just that deal when he was premier in 2000, Netanyahu insisted he would say no.
"The Golan will never be divided again, the Golan will never fall again, the Golan will remain in our hands," he said on Sunday.
Netanyahu has carefully not criticized Yisrael Beitenu or its leader, Avigdor Lieberman, who was Netanyahu's chief aide when he was prime minister from 1996 to 1999, hoping for a partnership after the election. Lieberman has been playing on the fears of many Israelis about the growing sympathy of Israeli Arabs for the Palestinian cause. Arabs make up about 20 percent of Israel's population.
Lieberman's main campaign plank is to force Arabs to swear loyalty to the Jewish state or relinquish their citizenship. Some polls show Lieberman's party approaching 20 seats in the 120-seat parliament, trailing Likud and Kadima, polling less than 30 seats each, but well ahead of Labor, with about 15.
While it is unlikely that Lieberman could carry out his loyalty pledge, the scope of his support could catapult him into a key role in the new government, giving him a large voice in peace moves and domestic policy as well.
Israelis vote for parties, not candidates, and the 120 seats are divided up according to the numbers of votes the parties get. This time 31 parties are running, the highest number ever.
Comments will be moderated. Keep comments relevant to the article. Remarks containing abusive and obscene language, personal attacks of any kind or promotion will be removed and the user banned. Final decision will be at the discretion of the Taipei Times.