Guantanamo court back for possible last session
TRIAL AND ERROR Although president-elect Barack Obama has vowed to shut down the US base in Cuba, a week of pretrial hearings began at the prison yesterday
Military judges in a Guantanamo war crimes court were pressing forward yesterday with hearings against five men accused of orchestrating the Sept. 11, 2001, attacks in the US and a Canadian accused of killing a US soldier.
Several days of pretrial motions were scheduled to start a day before the inauguration of US president-elect Barack Obama, who has said he would close the offshore prison at the US Navy base in Cuba.
Lawyers and representatives of human rights groups who have come to observe the hearings believe Obama will suspend the military commission system created by Congress and outgoing US President George W. Bush in 2006 to prosecute dozens of men held at Guantanamo.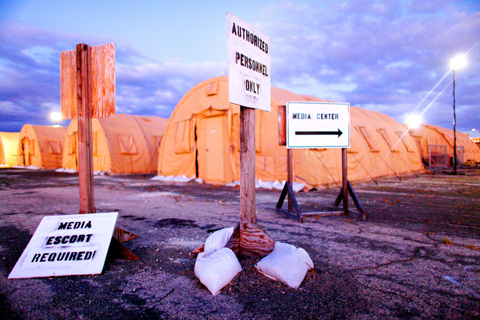 A photo, reviewed by the US Military, shows signs marking off a restricted area at the US Naval Base in Guantanamo Bay, Cuba, on Sunday.
PHOTO: AFP
Many observers doubt the US will go ahead with the Jan. 26 trial of Canadian Omar Khadr, who is accused of killing a US soldier with a grenade during a firefight in Afghanistan in 2002, when the Toronto native was 15.
"This system is discredited and flawed and should not exist one day more, and certainly the signals that we hear from Washington, from the Obama transition team, are that he will act on it as soon as he is in office," said Jamil Dakwar, a lawyer with the American Civil Liberties Union who is in Guantanamo this week to observe the hearings.
Obama's nominee for attorney-general, Eric Holder, in his confirmation hearing echoed a major criticism of the commissions: that they lack sufficient legal protections for those charged. He said the detainees could be tried in the US.
Those statements make it unlikely that the commission system will go forward, said Navy Lieutenant-Commander Bill Kuebler, Khadr's ­Pentagon-appointed lawyer.
"It is simply unimaginable to think that these proceedings would continue when you have an administration that is on the record saying that so clearly," Kuebler said. "What's very clear ... is that they want to take a different course of action on Guantanamo."
The Pentagon's chief war crimes prosecutor, Army Colonel Lawrence Morris, said he did not know what the Obama administration would do and had to plan as if the commissions would go forward. Still, prosecutors joined with the defense in asking military judges to postpone this week's hearings until after the inauguration. The judges rejected the request.
In the Sept. 11 trial, a key issue before the court is whether Ramzi Binalshibh, a Yemeni who is accused of being a key lieutenant to the alleged architect of the plot, is mentally competent to adequately participate in his defense.
His military-appointed lawyers argue they need more information, including testimony from guards and medical personnel who have interacted with him at Guantanamo, to help them determine if he is mentally fit to stand trial.
Before the court can delve into that issue, however, the judge will consider whether the Pentagon must charge and arraign the men all over again after it withdrew and refiled charges in about 20 cases. The Pentagon described the refiling as a procedural step required to appoint new military jury panel members.
Comments will be moderated. Keep comments relevant to the article. Remarks containing abusive and obscene language, personal attacks of any kind or promotion will be removed and the user banned. Final decision will be at the discretion of the Taipei Times.