Mudslides slow Costa Rica rescue
SHELTER A Red Cross official put the death toll at 20, while about 2,500 people crammed 21 shelters in the aftermath of Thursday's 6.1 magnitude earthquake
Rescue workers with dogs were threatened by mudslides on Sunday as they searched among collapsed houses for survivors of an earthquake that killed more than 20 people in a Costa Rican town last week.
Sniffer dogs stumbled through rubble around the village of Cinchona, on the flank of the Poas Volcano, where rescuers believe more victims may be found in a restaurant crushed by a landslide after Thursday's 6.1 magnitude quake.
"We think there are two people in this house, so we're going to cut through the roof and dig to see what we can find," said rescuer Andres Madrigal, who later recovered the bodies of two small children and a woman from the house.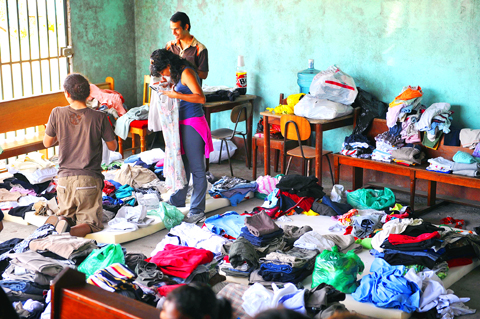 Volunteers select clothes for the victims of last Thursday's earthquake at Fraijanes church, used as temporary shelter, some 50km north of San Jose, Costa Rica, on Sunday.
PHOTO: AFP
A Red Cross official had earlier put the death toll at 20. Another 2,478 people evacuated during the temblor were being housed in 21 shelters, the National Emergency Commission said in a statement.
Authorities visited shelters crammed with hundreds of Costa Ricans in the hopes of narrowing a list of missing people.
The commission said 218 houses were destroyed or damaged, but cautioned that surveyors had yet to reach several towns and villages around Poas Volcano.
Daily rain has added to the danger of more landslides, commission official Victor Falla said.
"Some [ground shifts] are so strong that work has to be suspended," he said. "Everyone, including the rescuers, has to run."
Houses in the jungle region teetered on the edges of cliffs created by the earthquake. In one area at risk of collapse, abandoned dogs guarded homes left by residents evacuated to shelters.
Colombia and the US have sent military helicopters, rations, bottled water and electric generators to help the Costa Rican government, which does not have an army.
Hundreds of people stranded by blocked roads have been moved to shelters or evacuated by air to the capital San Jose.
Five British tourists who were unaccounted for have since been located and are safe, embassy official Ericka Phillips said.
"We have had no reports, of British or any other foreign nationality, of deaths, injuries or missing people," she said.
Costa Rica is a popular tourist destination because of its lush natural parks, volcanoes and rich wildlife, but it is prone to natural disasters like the rest of Central America.
Comments will be moderated. Keep comments relevant to the article. Remarks containing abusive and obscene language, personal attacks of any kind or promotion will be removed and the user banned. Final decision will be at the discretion of the Taipei Times.