Medvedev visits Cuba, renews ties with old ally
Russian President Dmitry Medvedev visited old Cold War ally Cuba on Thursday, spending hours with President Raul Castro on the final leg of a Latin America tour designed to increase Moscow's profile in a region long dominated by the US.
Medvedev arrived in Havana from Venezuela, where he met socialist President Hugo Chavez and agreed to help the oil-rich South American country start a nuclear energy program.
Russian officials deny that Medvedev's four-nation trip to Latin America is meant to provoke the US, but the voyage included meetings with Washington's staunchest opponents in the region. Chavez and Medvedev met aboard a Russian warship docked in a Venezuelan port ahead of joint military exercises.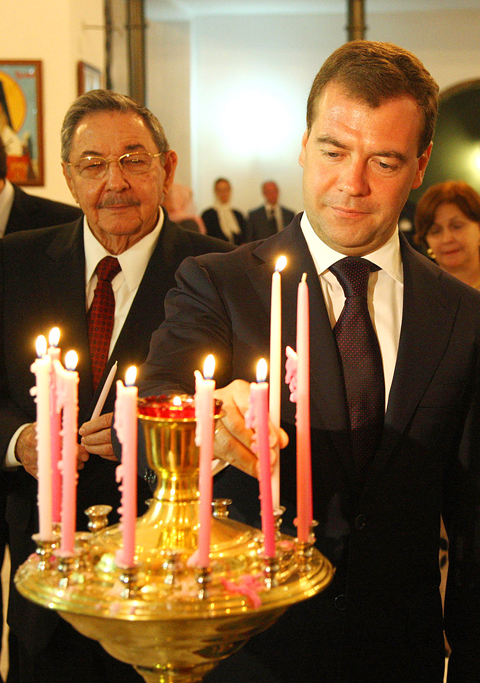 Russian President Dmitry Medvedev, right, and Cuban President Raul Castro visit a Russian Orthodox cathedral in colonial Old Havana on Thursday.
PHOTO: AFP
Medvedev said Russia was stepping up its political ties in Latin America and said Moscow must aggressively seek to shore up its economic position in the region.
"One must admit, to put it simply, we have never had a serious presence here — these have been just episodes," he told reporters in Cuba, referring to Latin America as a whole.
"We visited states that no Russian leader, and no Soviet leader, ever visited. This means one thing: that attention simply was not paid to these countries," he said.
"And in some ways we are only now beginning full-fledged, full-format and, I hope, mutually beneficial contacts with the leaders of these states — and, correspondingly, with the economies of these states. We should not be shy and fear competition. We must bravely enter the fight," he said.
The visit comes at a time when Russia is angry at US plans to build a missile-defense system in Eastern Europe.
The upper chamber of the Czech Parliament on Thursday approved a deal to accept a US missile defense installation. Russia fiercely opposes the plans, saying US military installations in former Soviet satellites threaten its security.
In Cuba, Raul Castro did not greet the Russian president at the airport, but he was by his side just a short time later, accompanying Medvedev to the monument of independence hero Jose Marti and to a recently inaugurated Russian Orthodox Church.
The pair also met privately, then spoke again surrounded by top advisers as part of "official conversations" at the storied Palace of the Revolution, discussing the global financial crisis and other topics.
"We discussed the development of our relations, in the economic sphere and the sphere of military-technical cooperation" — arms sales — "as well as security and regional cooperation," Medvedev told reporters.
The 77-year-old Castro — who succeeded his brother Fidel as president in February — served as Cuba's defense minister for nearly five decades and enjoyed an excellent relationship with Soviet defense officials.
A steadfast communist who visited the Soviet Union often, Castro has long been thought of as a great admirer of Moscow and its policies.
Comments will be moderated. Keep comments relevant to the article. Remarks containing abusive and obscene language, personal attacks of any kind or promotion will be removed and the user banned. Final decision will be at the discretion of the Taipei Times.