Thailand's forces on alert for protest
Thailand's military and police were on alert yesterday as the country braced for fugitive and former prime minister Thaksin Shinawatra to speak by telephone at a rally that many fear could spark more political violence.
Thousands of supporters poured into a Bangkok stadium for the seven-hour rally, with the highlight expected to be the telephone call from Thaksin in the evening.
The rally comes after several recent outbreaks of violence in Thailand's extended political crisis, which remains focused on Thaksin despite his ouster in a 2006 military coup and a criminal conviction last month.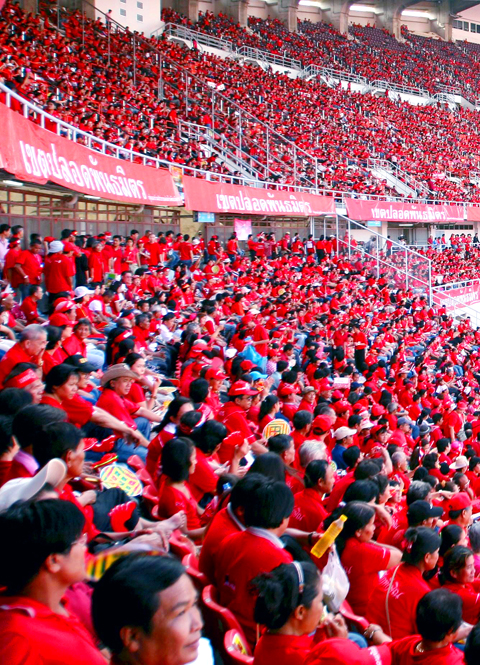 Thai demonstrators in red shirts gather to show their support to convicted former prime minister Thaksin Shinawatra during a fervent political rally at Rajamangala Stadium in Bangkok yesterday.
PHOTO: EPA
Thaksin, who fled to Britain in August, remains the country's most influential politician. He is adored by the poor who benefited from his populist policies, but reviled by many of the educated elite in the cities, where his administration was seen as deeply corrupt.
Many people at the rally traveled from the north and northeast, the rural heartland where Thaksin built up a political base during his six years in power.
Comments will be moderated. Keep comments relevant to the article. Remarks containing abusive and obscene language, personal attacks of any kind or promotion will be removed and the user banned. Final decision will be at the discretion of the Taipei Times.