Burundi albinos hide in fear of witchcraft
When Richard Ciza was alerted by neighbors last week that a posse was looking for him, he ran and hid for two days in the forest of eastern Burundi.
The 19-year-old is an albino and knows exactly what kind of death he would have suffered if the hunters had caught up with him.
"Some neighbors came to warn me that a group of killers was after me and so I ran like the wind, completely terrified," said Ciza, who lives in Ruyigi Province.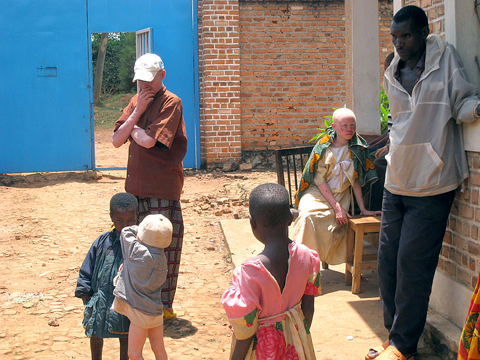 Richard Ciza, top left, 19, and Francine, second right, 14, wait in the courtyard of a home in the eastern Burundian town of Ruyigi on Wednesday last week. They and other albinos have recently sought refuge after two albinos were recently killed and dismembered in what are believed to be ritual killings.
PHOTO: AFP
In recent weeks, Ruyigi has seen a gruesome string of murders and mutilations of albinos, whose body parts are sold to witch doctors.
"People say that the body parts taken from albinos are sold in Tanzania. They put them on gold mines and that brings the gold to the surface, then you just need to collect it," said Ciza, fear evident in his pale blue eyes.
"Some fishermen also use the parts to bait large fish they think have gold in their bellies," he said.
Still in shock, Ciza spoke from the safety of Ruyigi Province chief prosecutor Nicodeme Gahimbare's home.
The official's home has been turned into an albino safehouse, surrounded by a 3m wall, where some 25 albinos from all over the region have taken shelter.
"We held a crisis meeting with the administration, the police, local MPs and people representing the albinos. We've decided to gather all 45 known albinos in Ruyigi to guarantee their security," Gahimbare said.
On Sept. 22, a 16-year-old albino girl named Spes was attacked in her village of Nyabitsinda.
She was dismembered and her body parts disappeared. A few days later, the same happened to a man in the village of Bweru. Officials have reported two other recent murders elsewhere in the country.
Police have established that the limbs, organs and blood of the albinos were smuggled into Tanzania and sold to local sorcerers who use them to concoct lucky charms.
Northern Tanzania has been plagued by grisly incidents involving witchcraft. The phenomenon has reached such proportions that the country's president has had to launch a special protection program.
Demand is such in Tanzania that albinos across the region now feel threatened.
Albinos in Ruyigi Province, where witchcraft is deeply entrenched, are more at risk than others.
Ephrem, an eight-year-old boy from Nyabitsinda, walked more than 10km with his father to reach the prosecutor's safe house in Ruyigi town.
"Just because of their skin color, they are being hunted on the grounds that they have a commercial value in the eyes of some people," said his father, Protais Muzoya, a father of 10, two of them albinos.
"Not very far from our home, some criminals killed a young girl who looks like my children. They cut her arms off and collected all her blood and I'm very scared for my children," he said, holding his son's hand.
As the worried father recounted the girl's death, a car pulled up in front of them to offer a lift to Ruyigi but Ephrem panicked, kicking and screaming, refusing to get into the stranger's vehicle.
"My son is in a constant state of terror since he heard what happened. When he walks in the street, some people say things like 'Our fortune goes by,'" said Protais, politely turning down the perplexed driver's offer.
The handful of albinos in the region have had to close ranks and often exchange stories and survival tips.
Albinism is a congenital lack of the melanin pigment in the skin, eyes and hair, which protects from the sun's ultraviolet rays. Albinos in Africa are vulnerable to medical complications as well as social discrimination.
But while they once had to hide only from the sun and jeers, albinos in Tanzania and Burundi are now running from a more macabre menace.
"The threat against albinos is very real. Richard Ciza for example was chased by four murderers armed with rifles and had to hide in the forest for two days," Gahimbare said.
"These people say they can earn 600 million Tanzanian shillings [US$500,000] for the body of one albino," he said.
"The fate of albinos should become a national preoccupation because it has spread far beyond the borders of our province. What is happening is terrifying because albinos are now looked upon as a commercial good," he said.
Comments will be moderated. Keep comments relevant to the article. Remarks containing abusive and obscene language, personal attacks of any kind or promotion will be removed and the user banned. Final decision will be at the discretion of the Taipei Times.