Followers of al-Sadr protest deal
'NO TO THE DEVIL' Thousands took to the streets yesterday to express their opposition to a draft US-Iraq deal that is said to keep US troops in Iraq until 2011
Followers of radical Shiite cleric Moqtada al-Sadr staged a mass march through Baghdad yesterday to demand the immediate withdrawal of US troops and to protest a planned US-Iraq security deal.
The march began at the cleric's Sadr City bastion in east Baghdad and was to end at nearby Mustansiriyah Square, where protestors planned to burn effigies of US President George W. Bush and US Secretary of State Condoleezza Rice.
The protest was originally to be held on April 9 — the anniversary of the fall of Saddam Hussein's regime — but was postponed because of violent clashes between Sadr's Mehdi Army militia and US and Iraqi forces.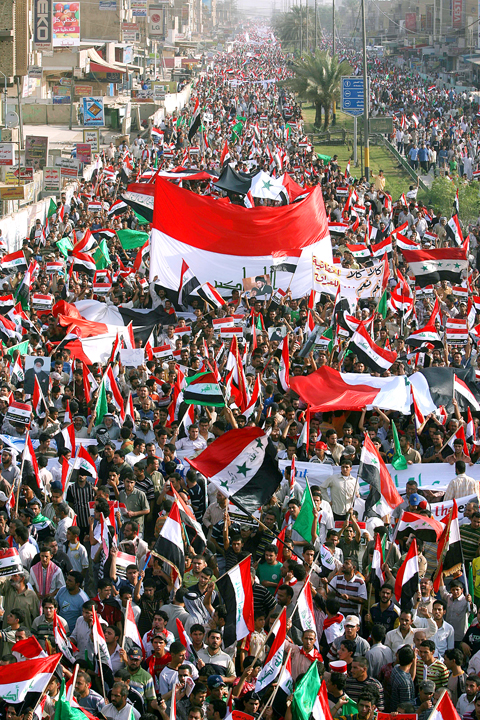 Thousands of followers of Shiite cleric Moqtada al-Sadr take part in a rally in Baghdad, Iraq, yesterday, to protest a draft US-Iraqi security agreement. The show of opposition comes as the US and Iraqi leaders try to build support for the accord that would extend the presence of US forces in Iraq beyond the end of this year.
PHOTO: AP
"No, No, to America! No, No to the devil!" shouted crowds of men, women and children as they walked through the dusty streets of Sadr City toward Mustansiriyah Square, some 3km away.
Carrying Iraqi flags and banners of the Sadr movement, the demonstrators demanded an end to the US occupation of Iraq.
"Get out occupier! We demand an end to the occupation!" they shouted.
REJECTING OCCUPATION
Large numbers of Sadr supporters had gathered since Friday night at Sadr City's Mudhaffar Square where the protest march began, while many arrived at the venue from several Shiite regions of Iraq early yesterday.
"We are marching to reject the occupation," said Karim Kadhim, a Shiite from the holy city of Najaf.
"Would America like to be occupied by any other country? Would America like its sons to be attacked? Why are they occupying our country?" he asked.
"They have been lying for the past five years. They told us they are coming to free us and go. But they are still lying," he said.
Sami al-Arraji, another protestor, said the demonstration was also against a security deal now being hammered out by Washington and Baghdad.
"We reject this agreement with the occupier because it is a long term pact which will give it [US] a guarantee to rule Iraq as long as possible," he said.
US and Iraqi negotiators have reached agreement on a draft security deal which would govern the future status of US forces in Iraq after the present UN mandate ends in December, but the pact has still to be approved by leaders of both countries.
TIMELINE AGREEMENT
Details have not been made public but officials have previously said an agreement was reached on a timeline for the withdrawal of all US combat troops from Iraq by the end of 2011.
A key point of contention in the months-long negotiations has been whether US troops and contractors would fall exclusively under US jurisdiction if accused of serious crimes in Iraq.
Sadr and his followers are opposed to any kind of deal with Washington that would keep US forces in the country.
The cleric, reportedly to be in Iran, has been a strong opponent of the US presence in Iraq since the toppling of Saddam Hussein's regime on April 9, 2003, the day that symbolizes the start of US occupation of the country.
REBELLIONS
Sadr launched two bloody rebellions in 2004 from Najaf that killed hundreds of his militiamen but established him as a hardline leader of the masses.
"The Mehdi Army is still powerful and Sadr is still powerful," the crowd chanted yesterday, referring to the cleric's feared 60,000-strong Mehdi Army militia. "We demand that the Iraqi government and the parliament force the occupier out of Iraq."
Comments will be moderated. Keep comments relevant to the article. Remarks containing abusive and obscene language, personal attacks of any kind or promotion will be removed and the user banned. Final decision will be at the discretion of the Taipei Times.