Lula hits out at developed nations
Brazil's president blasted rich nations he blamed for the global financial crisis on Monday, saying their irresponsibility could destroy fiscal strides made in the developing world.
President Luiz Inacio Lula da Silva has repeatedly said in the past week that Brazil was well insulated from the financial fallout on Wall Street.
But with Brazil's Ibovespa stock index plunging 9.4 percent, the local currency dropping hard and the US Congress rejecting an emergency bailout package, Lula lashed out at those he said were responsible for the global financial shocks.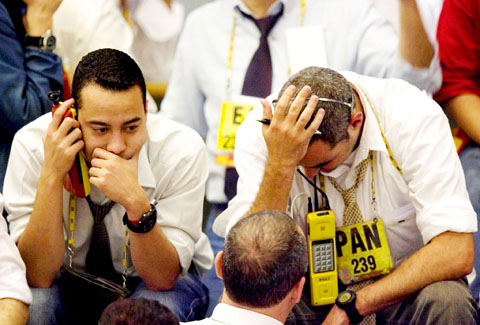 Traders react at the stock exchange market on Monday in Sao Paulo, Brazil. The Ibovespa index fell 9.4 percent after the failure of the bailout bill in the US Congress.
PHOTO: EPA
Rich countries "need to take responsibility" because emerging economies that "have done everything to have good fiscal policy ... can't be turned into victims of the casino erected by the American economy," Lula said.
Asked a week ago about the crisis, Lula responded: "What crisis? Go ask [US President George W.] Bush."
But the impact on Brazil and other emerging nations as investor capital flows out and heads to safer bets like US bonds and gold is beginning to worry leaders.
"We know this crisis is serious, we know that it's going to reduce worldwide credit, but we're sure that our exports will continue going well, our industry will continue growing," he said.
Brad Durham, managing director at EPFR Global, a Cambridge, Massachusetts-based fund research firm, said the turbulence hitting Brazil and other developing economies "was due to a perfect storm of bad news."
He cited the lack of a bailout package in the US, dropping commodity prices and cold credit markets, among other woes.
Additionally, Brazil suffers from being a bellwether emerging market.
Brazil tends to be a "very high beta market, so it reflects perhaps excessively the prevailing mood of global investors — which currently is gloomy," he said.
Lula said government funding of infrastructure projects deemed vital to Brazil's economic future won't be affected because "Brazil isn't going to throw away this opportunity after so many years of waiting for growth."
Lula said "that those responsible" for the global financial crisis had to take swift action to end the economic free fall.
"It's not fair for Latin American, African and Asian countries to pay for the irresponsibility of sectors of the American financial system," he said.
Lula went on to say that it's time for the American government "to assume responsibility" for the crisis.
"They created a hole in the financial system," he said. "They have to take responsibility to fix it to put the world at peace."
Comments will be moderated. Keep comments relevant to the article. Remarks containing abusive and obscene language, personal attacks of any kind or promotion will be removed and the user banned. Final decision will be at the discretion of the Taipei Times.