FEATURE: Hope fading, but not lost, for India-China boom in border trade
Guo Ting stands patiently in the drizzling rain hoping to sell her wares — about half a dozen blankets wrapped in plastic — but only a few shoppers show up and nobody is buying.
"Business is not good as the market is too small," Guo says as she waits for customers at the Sherathang mart, about 5km from the ancient Nathu La border crossing between India and China.
When the two Asian giants opened the 4,500m-high pass in 2006 to improve ties dogged by a bitter war in 1962 that saw the route closed for 44 years, many on both sides hoped it would boost trade.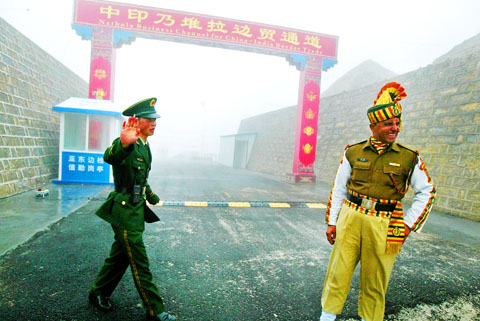 A Chinese soldier, left, and an Indian soldier stand guard on July 10 on the Chinese side of the ancient Nathu La border crossing between India and China. When the two countries opened the pass in 2006, many on both sides hoped it would boost trade. Red tape, poor facilities and substandard roads in the region have, however, proved obstacles to flourishing business.
PHOTO: AFP
Two years on, optimism has given way to despair as the flow of traders has shrunk to a trickle because of red tape, poor facilities and substandard roads in India's remote northeastern mountainous state of Sikkim.
Guo is among about 35 traders who cross the border daily from China's Tibetan region, while five or so Indians hawk their goods across Nathu La on weekdays, when business is allowed.
Two years ago, as many as 50 Indians a day used the historic road for trade, but this year only 30 businessmen have applied for special permits, the Sikkim Chamber of Commerce said.
"I don't have a permit. There's no use in going there when they can buy from us here," said Dolma Tsochung, who runs a shop at Sherathang market, where the Chinese do business.
Monthly trade has been cut by nearly two-thirds of what it was two years ago to about 700,000 rupees (US$16,200) — a pittance compared to the US$38.7 billion of overall business the two countries conducted last year.
India and China aim to boost trade to US$60 billion in the next two years — a large chunk of which experts say can be facilitated through Nathu La, the shortest route for freight between the two countries.
But traders complain that an outdated list of goods allowed to be traded is stifling potential.
Indians can export 29 goods and import 15, including goat skin and horses.
"The list is so outdated. We used to dismantle cars and send them to China to be reassembled there 40 years ago, and today we are supposed to be trading in horses," Sikkim Chamber of Commerce president S.K. Sarda said.
"The bureaucrats sitting in their air-conditioned offices in Delhi have no idea about what's happening on the ground," Sarda said.
Business is also restricted to the traders of the tiny Sikkim state — which lies between China, Bhutan and Nepal — for the first five years, while there is far more potential from the neighboring district of West Bengal.
At Sherathang, as the 2:30pm closing time approaches, traders pack their goods and wrap them in plastic sheets.
While the Chinese are allowed as far as Sherathang, Indians traders can go up to the village of Renqinggang in Tibet.
The steep 52km drive from the Sikkim capital of Gangtok to Nathu La takes more than three hours — making it impossible for more than a few to do business there.
"When things are much cheaper in Siliguri and Kolkata, why would anyone come here to buy from the Chinese?" asks Tsering Bhutia, an interpreter who helps traders bargain with his proficiency in four local languages.
The Sikkim government, however, has promised to widen roads and is considering a rail link.
Along the Gangtok-Nathu La route, dozens of workers are blasting the mountains to make the route wider to facilitate trade.
The Sikkim Chamber of Commerce also holds out hope as the government considers a proposal by a US firm for a rail link through a tunnel in the mountains that would cut costs considerably.
"Discussions on the tunnel are still going on. If the rail link comes, up to 40 percent of India-China trade can be conducted through Nathu La," Sarda said.
The railway could cut the time it takes to get from Siliguri to Gangtok to 40 minutes from three hours.
"The cost of freight and transit will be much lower then. If we could do massive trade before the 60s, we can still do it," Sarda said.
Comments will be moderated. Keep comments relevant to the article. Remarks containing abusive and obscene language, personal attacks of any kind or promotion will be removed and the user banned. Final decision will be at the discretion of the Taipei Times.