Eighty-year-old stripper still dancing
Tempest Storm is fuming. Her fingers tremble with frustration. They are aged, knotted by arthritis and speckled with purple spots under paper skin.
But the manicure of orange polish is new and flawless — and matches her signature tousled mane.
She brushes orange curls out of her face as she explains how she's been slighted.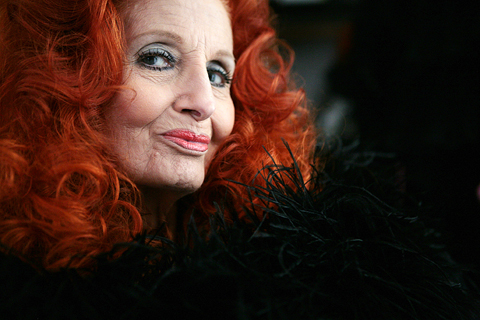 Tempest Storm, an 80-year-old burlesque dancer, tries on her feather boa in her apartment in Las Vegas on Friday.
PHOTO: AP
She is the headliner, you know, a star. She is classy.
"I don't just get up there and rip my clothes off," she says.
Indeed, the 80-year-old burlesque queen takes off her clothes very slowly.
More than 50 years ago she was dubbed the "Girl with the Fabulous Front," the "Best Two Props in Hollywood."
Since then, Storm has seen the art that made her famous on the brink of extinction. Her contemporaries — Blaze Starr, Bettie Page, Lili St. Cyr — have died or hung up the pasties.
But not Storm. She kept performing. Las Vegas, Reno, Palm Springs, Miami, Carnegie Hall.
Her act is a time capsule, with her prop of choice a boa. It takes four numbers, she says adamantly, to get it all off right. To do it classy.
But the producers of tonight's show, just kids, want it faster.
She gets just seven minutes.
"I did seven minutes when I started," she complains.
They gave her trouble last year, too — cutting her music before she finished. Is it really time to quit, she wonders, but then quickly adds: "No, no. I'm not ready to hang up my G-string, yet. I've got too many fans that would be disappointed."
Stardom and fandom feature prominently in Tempest Storm's life — and in her neat, two-bedroom Las Vegas apartment.
Visitors are greeted by photos of a young Elvis Presley, her favorite rock 'n' roller and, she says, a former lover.
The relationship ended after about a year because Elvis' manager didn't approve of him dating a stripper, she says. But she couldn't change who she was. Stripping made her famous, put her on the same stage as Hollywood's heavyweights — singers like Frank Sinatra, comedians like Mickey Rooney.
She dated some, just danced for others. The evidence is framed and displayed on tables and the living room wall: Storm and 1950s crooner Vic Damone; Storm teaching TV news anchor Walter Cronkite to dance; Storm and her fourth and last husband, Herb Jefferies, a star of black cowboy films who swept her off her feet in 1957 when such unions were instant scandals — they divorced in 1970.
"When I look at this picture I say, 'What the hell happened between this gorgeous couple?'" Storm says.
The moment is brief.
Storm is rarely wistful. She has no doubt she still is what she once was. Although she performs just a few times a year, she would do more — if asked. She chides those who think age takes a toll on sex appeal.
"Ridiculous," she says.
There are recent photos in the room, too: Storm and her daughter, a nurse in Indiana. Storm and her fiance, who died a few years ago.
Comments will be moderated. Keep comments relevant to the article. Remarks containing abusive and obscene language, personal attacks of any kind or promotion will be removed and the user banned. Final decision will be at the discretion of the Taipei Times.