Japan's PM vows to reduce Okinawa's US troop burden
Japanese Prime Minister Yasuo Fukuda yesterday promised to reduce the burden of US troops on the people of Okinawa as the island commemorated the 63rd anniversary of the bloodiest battle of the Pacific war.
At an annual ceremony, Fukuda said he would listen to opinions of the island's residents, who have long been reluctant hosts for more than half of the 40,000 US troops based in Japan.
"The concentration of US military facilities has been a heavy burden for the people of Okinawa. I will do my utmost, by carefully listening to heartfelt voices, to reduce the burden on Okinawa," Fukuda said in a speech.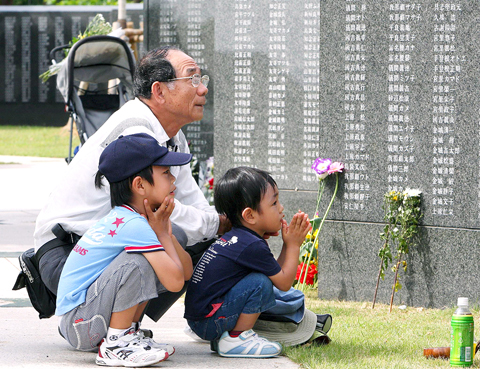 Relatives pay their respects at the Cornerstone of Peace, where 240,000 names of civilians and soldiers killed in the last land battle of World War II on Japanese soil are engraved at Peace Memorial Park in Itoman, Okinawa, yesterday.
PHOTO: EPA
The Okinawa battle claimed the lives of 190,000 Japanese, half of them Okinawan civilians, and 12,520 US soldiers in all-out US bombardment and die-hard resistance remembered as the "typhoon of steel."
Towards the end of the 83-day battle, Japanese troops forced local residents of Okinawa to kill themselves "honorably" rather than face capture by US forces, according to local accounts.
Conservative scholars and politicians have caused an uproar in Okinawa, an independent kingdom until the 19th century, by arguing that the suicide pacts were voluntary and not under orders from mainland soldiers.
Okinawa Governor Hirokazu Nakaima told the ceremony that it was important to teach younger people the true stories of the battle.
"Accurately passing on the memories of the war, and continuing to reiterate our resolve not to make wars again — these principles are the foundation of Okinawa," he said.
Nakaima also called on Tokyo to swiftly reduce the presence of the US military, who are stationed under a security alliance reached after World War II when Japan renounced the right to wage war.
"We still see the concentration of vast US bases here. We the residents are forced to endure an unfair burden of crimes, accidents and noise," he said.
Tensions rose earlier this year when a US Marine was convicted by a military trial of groping a 14-year-old girl.
Comments will be moderated. Keep comments relevant to the article. Remarks containing abusive and obscene language, personal attacks of any kind or promotion will be removed and the user banned. Final decision will be at the discretion of the Taipei Times.