FEATURE: Flying doctors live legend of Aussie outback
The eyesight of some of the grizzled opal miners in this outback outpost was fading, but with the help of Australia's legendary flying doctors they could still spot the flash of color that could finally make them rich.
Eighty years after its first bi-plane took off on May 17, 1928, the Royal Flying Doctor Service is more high-tech but its patients are much the same — the far-flung characters of the continent's remote vastness.
Geoffrey McFadden drove a beat-up pick-up from the railway carriage he calls home, stranded among dumps of broken rock dreams, to consult an eye specialist who flies in from Sydney in a Beechcraft SuperKingair.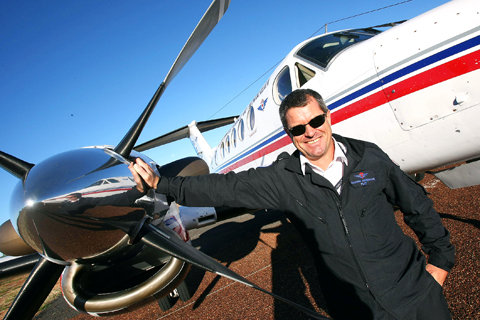 Captain Graham Sorrenson stands beside the Royal Flying Doctor Service's "Beechcraft SuperKingair" at Lightning Ridge in the Australian outback last Monday. Eighty years after its first bi-plane took off on May 17, 1928, the Royal Flying Doctor Service still regularly visits patients in the continent's remote vastness.
PHOTO: AFP
"How are your eyes?" asked opthalmologist Michael Hennessy as he and McFadden sat almost knee-to-knee and eye-to-eye in the consulting room at the community health center.
Leaning forward, the 72-year-old miner hesitates for a moment then delivered the laconic reply: "Well, I can see you."
He's had a cataract removed and treatment for glaucoma, but on the way back home McFadden steered with a devil-may-care nonchalance down a dirt track through sun-bleached grass, open pits and dusty blonde mine rubble.
"It's the best life out here," he said, explaining why he has spent the past 25 years rummaging through the land's pale rock for the stunning multi-colored opalesque beauty occasionally hidden within.
"It's the freedom. You can do what you like. It's a feral life," he said.
But like everybody else in Lightning Ridge, some 770km northwest of Sydney, the liberty-loving "bushman" acknowledges the vital role played by the flying doctors from the big city.
"They're a necessity, top class, one of the greatest organizations Australia has got," he said, pulling up outside a tin-roofed, open-sided shack where his miner son Butch, 44, has the billy on for coffee.
Back in Lightning Ridge, Hennessy and his five-strong team saw the last of the 35 or so patients they deal with on each of about six trips a year to the outpost, which has no resident eye specialists.
"This is close to a hundred visits I've done over 12 years," Hennessy said.
"Patients are very appreciative on the whole that we come out here so that's satisfying in itself, it makes the effort to get here worthwhile," he said.
The Royal Flying Doctor Service, an iconic image of Australia internationally, provides both emergency medical aid and a comprehensive health care service to the people of the outback.
The not-for-profit service said it was the world's first aerial medical organization and remains unique for its range of services.
Last year, its 47 aircraft flew an average of more than 59,000km a day over an area of more than 7 million square kilometers and attended nearly a quarter of a million patients.
Comments will be moderated. Keep comments relevant to the article. Remarks containing abusive and obscene language, personal attacks of any kind or promotion will be removed and the user banned. Final decision will be at the discretion of the Taipei Times.