PM Rudd visits Aceh, pledges renewed aid
Australian Prime Minister Kevin Rudd landed in tsunami-hit Aceh Province, Indonesia, yesterday to see first hand Canberra's billion-dollar effort to help rebuild the province.
Rudd inaugurated a primary school rebuilt with Australian aid money after it was flattened in the 2004 tsunami, which killed more than 168,000 people in the province alone.
Rudd pledged A$50 million (US$46.8 million) to boost reconstruction funding in the province, which comes as part of Australia's A$2.5 billion 2009-2014 development partnership with Indonesia.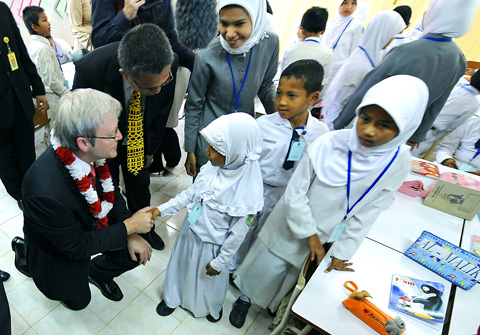 Australian Prime Minister Kevin Rudd, left, shakes hands with a schoolgirl yesterday in Ulee Lheue, Aceh Province, Indonesia, before inaugurating the Islamic primary school that was rebuilt after the 2004 tsunami with Australian aid money.
PHOTO: AP
The money would be spent on education, fostering economic development and improving access to government services, Rudd said at the school after being greeted by children in traditional costume.
In the wake of the tsunami, Australia pledged Indonesia more than A$1 billion, which has been spent both inside and outside Aceh.
After visiting the school, Rudd inspected an foreign-funded coastal fish farm in the village of Ujung Batee before having lunch with provincial governor Irwandi Yusuf in the capital Banda Aceh.
Rudd is scheduled to meet Australian and Indonesian aid workers before leaving on an air force jet for Australia.
Rudd met with Indonesian President Susilo Bambang Yudhoyono and senior ministers in Jakarta on Friday during his first state visit to Indonesia.
He promised a "new phase of cooperation" with Indonesia on issues such as disaster response and the environment, and praised the "very strong friendship" between the two neighbors.
The two leaders agreed that the recent cyclone in Myanmar and the earthquake in China's Sichuan Province underlined the need for a more coordinated regional approach to dealing with disasters.
"We do not know where a natural disaster will hit but between us we believe we can take a good and strong proposal" for a regional disaster-response system to the APEC meeting next year, Rudd said on Friday.
Rudd also used the visit to test support for his ambitious plan announced last week to create an Asia-Pacific Community including the US, Japan, India and China by 2020.
He has said the new bloc would not infringe on national sovereignty or replace existing structures, but had to be capable of addressing security and political issues in addition to the mainly economic focus of ASEAN and APEC.
The idea received warm backing from ASEAN Secretary-General Surin Pitsuwan, who told reporters on Friday that the plan was a "natural progression" for regional cooperation.
Yudhoyono has so far not commented on the proposal, but a foreign ministry spokesman last week said Indonesia was "really keen" to examine the plan.
Rudd, who took office after a landslide election win last November, has put closer engagement with Asia at the top of his foreign policy agenda.
Comments will be moderated. Keep comments relevant to the article. Remarks containing abusive and obscene language, personal attacks of any kind or promotion will be removed and the user banned. Final decision will be at the discretion of the Taipei Times.