Without fuel, Myanmar faces rice crisis: UN official
Myanmar is in urgent need of diesel fuel to make sure that tilling machines — brought in to replace water buffaloes killed by Cyclone Nargis — can be used to help plant rice in the storm-devastated Irrawaddy delta, a senior UN official said.
UN Under Secretary-General Noeleen Heyzer said on Friday that "the window of opportunity is very short, and the need is of the utmost urgency."
"The planting season in the delta is June to July, after which it will be too late, with disastrous consequences for food security in Myanmar and the region," Heyzer said.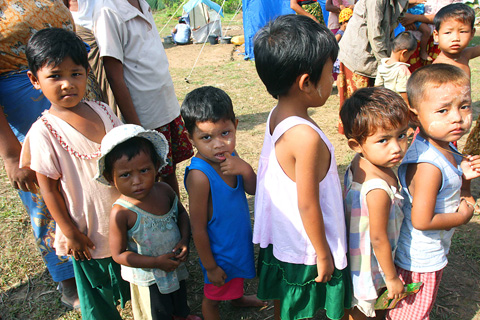 Survivors of Cyclone Nargis line up at a temporary camp in Labutta in the Irrawaddy Delta on Thursday.
PHOTO: AFP
'NOT GENUINE'
Meanwhile, in a clear reference to the US, the New Light of Myanmar newspaper, a mouthpiece for the ruling junta, warned that "the goodwill of a big Western nation that wants to help Myanmar with its warships was not genuine."
Myanmar turned down humanitarian aid from naval vessels from the US, as well as Great Britain and France, that had sailed toward the Southeast Asian nation after Cyclone Nargis struck early last month.
The newspaper said aid from nations who impose economic sanctions against Myanmar and push the UN Security Council to take actions against it "comes with strings attached."
The US is one of several Western nations that impose economic and political sanctions on the junta because of its poor human rights record and failure to hand over power to a democratically elected government.
Tens of millions of dollars have been donated to help Myanmar's cyclone victims, but the junta has been reluctant to accept foreign relief experts in large numbers and has restricted their access to the hard-hit delta area.
The UN estimates that more than 1 million survivors, mostly in the delta, still need help more than five weeks after the cyclone struck.
Cyclone Nargis killed more than 78,000 people and left another 56,000 people missing, the Myanmar government has said.
Heyzer, meanwhile, called for Myanmar's Southeast Asian neighbors, foreign aid donors and traditional oil suppliers to assist the country by helping supply it with 3.8 million liters of diesel.
Myanmar told Heyzer earlier this week the fuel was needed to operate some 5,000 tillers donated to plant rice in time for the next growing season, starting in June and July.
MAJOR RICE PRODUCER
The US Department of Agriculture said in an assessment issued earlier this week the area affected by the cyclone "normally accounts for roughly 60 percent of [Myanmar's] rice production."
"The outlook for the 2008/09 rice crop is very uncertain, as the planting window will close in late July. Little to no actual progress has been made to restore or rehabilitate damaged lands and infrastructure, while farmers are yet to be supplied with sufficient food, viable seed, tools, livestock or replacement mechanical tillers and fuel," it said.
Comments will be moderated. Keep comments relevant to the article. Remarks containing abusive and obscene language, personal attacks of any kind or promotion will be removed and the user banned. Final decision will be at the discretion of the Taipei Times.