Obama starts up Web site to combat online attacks
'Lay off my wife' The Democratic US presidential hopeful wanted to debunk rumors of racist comments by his wife, who Fox News has labeled 'Obama's baby mama'
Democratic Senator Barack Obama is fighting cyber attacks and innuendo with a Web site that seeks to debunk Internet rumors, most notably a claim his wife used a racial epithet during a church talk.
The Internet move is an unusual one in US politics, where candidates routinely ignore fabricated negative stories about them — unless they reach a boil — rather than risk giving them more publicity with explanations or denials.
The Obama campaign appeared to be trying to get out front of a flurry of expected attacks from Republican-allied nonprofit groups, knowns as 527s after the section of the US tax code that governs them, that can raise unlimited funds for TV ads not controlled by campaigns.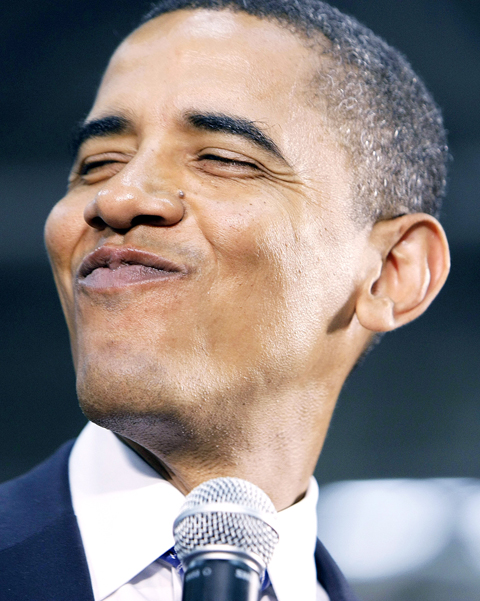 Senator Barack Obama laughs at a suggestion that he appoint US President George W. Bush the next ambassador to Iraq, at a meeting in Kaukauna, Wisconsin, on Thursday.
PHOTO: AP
Both Obama and Republican Senator John McCain are running on pledges of changing the highly partisan atmosphere in Washington that has frequently slipped into gutter politics.
The top item on the Obama site, www.fightthesmears.com, inaugurated on Thursday, denies a persistent claim that Obama's wife, Michelle, used the word "whitey" in a talk she once gave at the Trinity United Church of Christ in Chicago.
The Obamas recently resigned from the congregation after it became a source of embarrassment for the campaign, beginning with revelations of inflammatory remarks by Reverend Jeremiah Wright during his years as pastor.
Here's the lead item on the new Web site: "Lie: On May 30th, [right wing talk radio host] Rush Limbaugh said he had heard a rumor that a tape exists of Michelle Obama using the word 'whitey' while speaking from the pulpit of Trinity United Church of Christ. "Truth: No such tape exists. Michelle Obama has not spoken from the pulpit at Trinity and has not used that word."
The site also rebutted claims that Obama is a Muslim, that he attended a radical Islamic primary school when living in Indonesia and that he took the Senate oath on a Koran, the Muslim holy book.
The Web posting says the truth is "Senator Obama has never been a Muslim, was not raised a Muslim and is a committed Christian."
Michelle Obama has often been the target of conservative attacks, prompting Obama to demand his rivals "lay off my wife." Much of the criticism came from her comment that her husband's campaign had made her proud of her country "for the first time," a remark that inspired a Tennessee Republican Party Web video questioning her patriotism.
There also have been more insulting attacks, and not just limited to the Internet.
The Fox News Channel labeled her as "Obama's baby mama," a term that originated as urban black slang for a woman who has a baby with a man who is not her husband or her boyfriend. It also raised the suggestion that she gave her husband a "terrorist fist jab" when they bumped knuckles in congratulation the night he clinched the nomination.
Comments will be moderated. Keep comments relevant to the article. Remarks containing abusive and obscene language, personal attacks of any kind or promotion will be removed and the user banned. Final decision will be at the discretion of the Taipei Times.