Police clash with S Korean protesters
BACKLASH The largest protests yet against US beef brought an estimated crowd of 65,000 to the streets on Friday night. YTN cable news reported dozens were hurt
Dozens of protesters and police were injured in South Korea's biggest protest yet over a US beef import agreement, police said yesterday.
A crowd estimated by police at 65,000 demonstrated in central Seoul on Friday night, the biggest rally so far over the beef issue.
Some marched on a road leading to the presidential Blue House, but they were blocked by a barricade of police buses.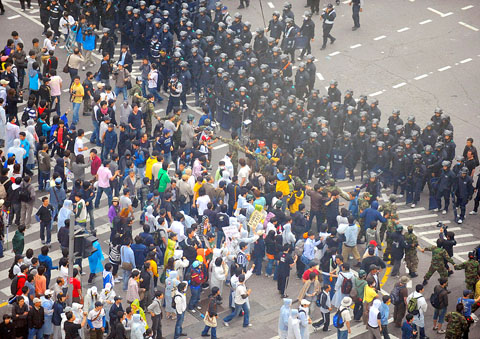 Riot policemen head off protesters during a rally against US beef imports in Seoul on Saturday. All the top aides to South Korean President Lee Myung-bak have offered to resign to shoulder the blame for the political crisis.
PHOTO: AFP
Riot police later clashed with demonstrators as they stopped them trying to march to the presidential office through a back alley.
About 25 riot police were hurt and hospitalized, and protesters smashed the windows of four police buses, said an officer at the Seoul Metropolitan Police Agency without giving his name, citing office policy. The injuries were not critical, he said.
The officer had no information on the number of protesters injured, and rally organizers were not immediately available for comment. News cable channel YTN said "dozens" of protesters were hurt.
South Koreans have been taking to the streets for weeks to criticize South Korean President Lee Myung-bak for his handling of an April agreement with Washington to restart imports of US beef.
Many South Koreans fear that the beef deal fails to protect the nation from mad cow disease by allowing beef from older US cattle, considered at greater risk of the illness.
Protesters complain Lee has ignored their concerns about mad cow disease, has behaved arrogantly and has given in to US demands.
Presidential spokesman Lee Dong-kwan said on Friday that all eight senior presidential secretaries — including himself and the presidential chief of staff — had offered to resign.
In South Korea, senior officials sometimes offer to step down during times of crisis to deflect or diminish criticism of an embattled leader.
The spokesman said yesterday it was not clear whether or when the president would accept the resignations.
South Korea's government said last week it would begin allowing imports this week, but withdrew the plan at the last minute on Monday, apparently fearful of a public backlash.
The government also said it has asked the US to refrain from exporting beef from cattle 30 months of age or older.
Still, it stopped short of directly asking Washington for a renegotiation of the deal and failed to calm public anger.
President Lee said on Friday he would take a "humble attitude" and listen to the people, but ruled out any formal renegotiation, saying it might spark a trade dispute that could affect the country's export-driven economy, especially the key auto and semiconductor industries.
Lee said he would seek other ways to keep beef from older cattle from entering the country, and that the US is "actively cooperating" with Seoul to find a solution.
US beef has been banned from South Korea for most of the past four and a half years since the first case of mad cow disease in the US was discovered in late 2003. Two subsequent cases were found.
Scientists believe the disease spreads when farmers feed cattle recycled meat and bones from infected animals. The US banned recycled feeds in 1997.
In humans, eating meat products contaminated with the illness is linked to variant Creutzfeldt-Jakob disease, a rare and fatal malady blamed for the deaths of over 150 people worldwide, mostly in Britain.
Comments will be moderated. Keep comments relevant to the article. Remarks containing abusive and obscene language, personal attacks of any kind or promotion will be removed and the user banned. Final decision will be at the discretion of the Taipei Times.