Sherpa reaches summit of Everest for 18th time
A 48-year-old Nepalese sherpa broke his own world record yesterday by getting to the summit of Mount Everest for a breathtaking 18th time.
Appa Sherpa, who hails from a village at the base of the world's highest peak, reached the top of the world in the early hours of the morning, the head of Nepal's Mountaineering Association said.
"Appa Sherpa summited Everest at 5:45 this morning. He has set the new world record, as it is the 18th time he has got to the top," Ang Tsering Sherpa said. "This is another proud moment for the whole mountaineering fraternity."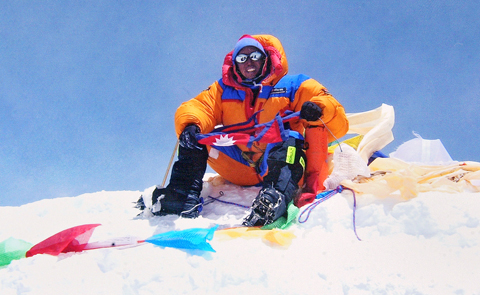 Appa Sherpa sits at the summit of Mount Everest on May 19, 2006. The Nepalese sherpa has broken his own world record by reaching the summit of Mount Everest for the 18th time.
PHOTO: AFP
Members of the communities around the mountain are essential for the dozens of commercial expeditions that cram Everest for the spring climbing season when jetstream winds briefly drop before the monsoon rolls in.
They lay out kilometers of ropes and prepare camps, and Appa Sherpa — who started climbing in 1987 — was quickly recognized as someone expeditions wanted on their team.
He made his first Everest summit in 1990, and has been making the climb into the "death zone" look like child's play ever since.
This year he summited with the Eco Everest expedition, an international team aiming to highlight the effects of global warming in the Himalayas as well as test ecologically sound mountaineering practices.
"He wasn't planning on trying for another summit, but he joined the Eco Everest expedition as he wanted to raise awareness about melting glaciers and the fragility of the mountain environment," Ang Tsering Sherpa said.
Since it was first summited in 1953 by Edmund Hillary and Tenzing Norgay, the 8,848m mountain has been summited more than 3,000 times.
Comments will be moderated. Keep comments relevant to the article. Remarks containing abusive and obscene language, personal attacks of any kind or promotion will be removed and the user banned. Final decision will be at the discretion of the Taipei Times.