Quake fuels Chinese nationalism
Eight Chinese in their early 20s made their way up a winding mountain road, stopping at each new quake-ravaged peasant home to help the injured. They said they were doing it for China.
"Anyone hurt in there?" they shouted at a house reduced to a heap of bricks and timber by Monday's disaster. When an old woman emerged, two of the young treated her ankle injury with disinfectant and bandages.
"We Chinese stick together and help each other," 25-year-old law student Lai Keyu said.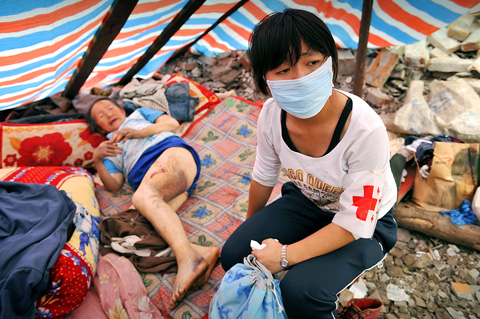 A volunteer treats an elderly victim at a temporary shelter in Shimen in the mountains of Sichuan, China, on Saturday.
PHOTO: AFP
"That's how we have managed to remain a nation for 5,000 years," Lai said.
The eight, four men and four women, came from schools and universities in Chengdu, capital of Sichuan Province, which bore the brunt of the worst earthquake to hit the nation in a generation.
The disaster, which hit China just as patriotism was reaching fever pitch ahead of Beijing's hosting of the Olympics, has set off an unprecedented charity and volunteerism drive across the nation.
Millions have given away clothes, donated blood or contributed money to charity campaigns. Some have simply picked up and headed to their ground zero.
The spontaneity is unprecedented in a country where the political leadership typically keeps a lid on any activity involving large groups.
Once in the disaster zone, the eight students banded together under the leadership of Li Fei, a charismatic 20-year-old, and sent into the green mountains of the quake zone with plastic bags full of basic medicine nearly a week after the quake hit.
As the road narrowed and became a barely visible path along steep slopes and across rapid creeks, they moved in single file towards their destination, Shimen, a village of corn and potato farmers.
While the philanthropy has brought together Chinese from all walks of life, there was one common denominator: nationalism.
"We love China," shouted Jiang Yibo, a Sichuan University student who was among the eight moving towards Shimen.
Just a month ago, a wave of anger swept through major Chinese cities over foreign views of anti-Chinese rioting in Tibet and the government's crackdown on it.
Criticism was directed at the international media — especially US network CNN — for their alleged anti-China bias.
French hypermart chain Carrefour also was targeted after French President Nicolas Sarkozy threatened to boycott the Olympic opening ceremony over Tibet.
"I hope you won't do a report like CNN," Li said.
After reaching Shimen, he and his group handed over their bags of supplies along with recommendations to boil water and keep calm.
"Don't worry, the government is taking care of aid," Li said.
The disaster had confronted the group with suffering of a kind they could not previously have imagined.
"What made me especially sad over the past few days was seeing the dead children. They should have been the future of China," said Lai, a law student.
However, for one of the eight, 22-year-old Luo Hong, the trip was much more personal.
She lost her father, who was killed in a landslide triggered by last Monday's quake and was still coming to terms with the tragedy.
Born in Shimen, she served as guide for the students, negotiating the path with the skill of a local.
"My father was a hard-working man. He toiled his entire life. He wasn't even supposed to work Monday. And then this happened," Luo said.
Comments will be moderated. Keep comments relevant to the article. Remarks containing abusive and obscene language, personal attacks of any kind or promotion will be removed and the user banned. Final decision will be at the discretion of the Taipei Times.