Newly trained Palestinian police head for Jenin
Hundreds of Palestinian police officers were headed to the once-restive West Bank town of Jenin yesterday after completing training in nearby Jordan, a senior security official said.
"The security forces are on their way to Jenin. They received their weapons this morning and will arrive there between 11am and noon," said Major General Thiyad al-Ali, commander of Palestinian security forces in the West Bank.
The security forces have completed a US-sponsored training program in Jordan and the deployment has been approved by Israel, though the Israeli army will continue to maintain a strong security presence across the West Bank.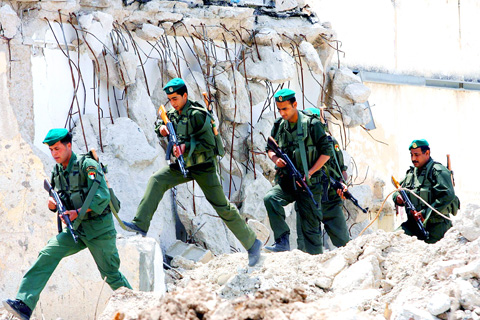 Palestinian security personnel take part in a training session in Jenin, West Bank, a day before the main forces started deploying to the city after completing their training in Jordan.
PHOTO: EPA
Ali declined to say how many forces had been sent, but Israel has approved the deployment of some 600 police and Palestinian officials have put the number of the initial deployment at 300.
The policemen, loyal to Palestinian president Mahmud Abbas, will press a months-old security crackdown in the northern West Bank that was launched in November in a bid to underpin peace talks between Israel and the Palestinians.
Under the 2003 roadmap agreement, an internationally-adopted framework for peace, the Palestinians must improve security in the occupied territories while Israel halts Jewish settlement activity and dismantles some illegal outposts.
Comments will be moderated. Keep comments relevant to the article. Remarks containing abusive and obscene language, personal attacks of any kind or promotion will be removed and the user banned. Final decision will be at the discretion of the Taipei Times.