Chavez condemns Uribe as 'US pawn'
Venezuelan President Hugo Chavez called Colombia's president a "pawn" of the US government and compared him to a mafia boss, raising tensions in a dispute that erupted during mediation efforts to free rebel-held hostages.
Chavez on Sunday reiterated accusations that President Alvaro Uribe's government tried to sabotage the release of two Colombian hostages last month, saying the captives' accounts of a bombing by the military in the area showed Colombia aimed to "dynamite" the handover.
The two captives -- Clara Rojas and Consuelo Gonzalez -- were eventually released by guerrillas to Venezuelan officials on Jan. 10. Colombia halted military operations for the handover and has denied trying to sabotage an earlier attempt.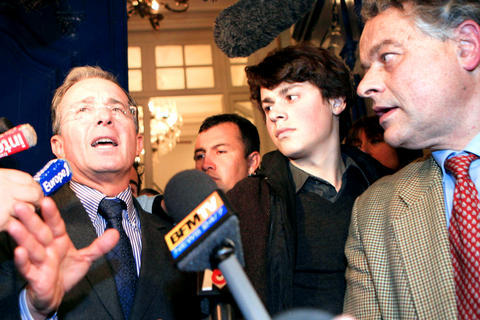 Colombian President Alvaro Uribe, left, speaks to the press, flanked by Fabrice Delloye, right, and Lorenzo, second right, son of Franco-Colombian hostage Ingrid Betancourt, on Sunday at the Colombian ambassador's residence in Paris. Uribe was to discuss Colombia's hostage crisis with French President Nicolas Sarkozy yesterday.
PHOTO: AFP
But Chavez accused Uribe of being deceitful, calling him a "coward" and a "pawn of the US empire" during his weekly broadcast.
"That man doesn't deserve to be president," Chavez said. "Uribe is suitable to be a mafia boss."
Colombiam Interior Minister Carlos Holguin later told the TV channel RCN that Chavez "has opted for the path of insults" but that "we aren't going to let ourselves be tempted ... by President Chavez's aggressions."
Meanwhile, Uribe is in France, where he met on Sunday with relatives of Ingrid Betancourt, a former Colombian presidential candidate with dual French citizenship who has being held by the Revolutionary Armed Forces of Colombia (FARC) for several years.
Uribe has blamed the FARC for the collapse of an initial hostage release operation late last month.
Comments will be moderated. Keep comments relevant to the article. Remarks containing abusive and obscene language, personal attacks of any kind or promotion will be removed and the user banned. Final decision will be at the discretion of the Taipei Times.