Family worried about Betancourt's health
NOT HOME FOR CHRISTMAS Relatives of kidnapped Colombians, including the three that FARC rebels promised to release, spent another holiday without their loved ones
Colombia's most famous hostage, former presidential candidate Ingrid Betancourt, turned 46 on Tuesday, with her family worrying for her health as she marked her sixth birthday as a hostage in a rebel jungle camp.
For thousands of Colombians who have relatives kidnapped, Tuesday was a day of reflection as they passed another Christmas without their loved ones.
But some had cause for hope as they await word of three hostages the rebels have promised to release to Venezuelan President Hugo Chavez. Last week, the Revolutionary Armed Forces of Colombia, or FARC, said it would hand over Clara Rojas, Betancourt's vice presidential running mate; Rojas' young son, Emmanuel; and a former congresswoman, Consuelo Gonzalez.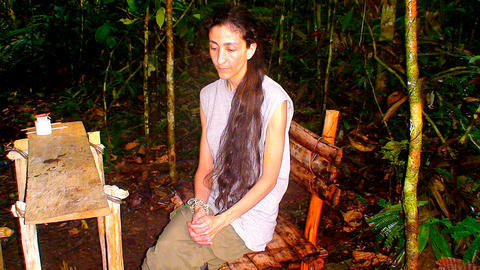 This photo released by the Colombian government on Nov. 30 shows former Colombian presidential candidate Ingrid Betancourt in an unknown location.
PHOTO: AP
After days of speculation and rumors, Chavez scheduled a news conference yesterday, in which officials said he would give details on the status of the handover of the three. The Rojas family said it hoped Chavez would announce he already has the hostages in his care.
But for the Betancourt family, Tuesday was a poignant day as they worried for the health of the French-Colombian politician, who was snatched along with Rojas in 2002 as they campaigned for the presidency in rural southern Colombia.
A video that surfaced last month showed the once-vivacious Betancourt looking gaunt, her stare fixed on the ground, her unkempt hair hanging down to her waist.
"This is an emergency ... her health is precarious," Betancourt's husband, Juan Carlos Lecompte, said in an interview with the Associated Press. "We can't wait months or years, this is a question of days and weeks ... we are worried she could die in captivity."
In addition to 700 people held for ransom, the rebels are offering to exchange 47 prominent hostages, including Betancourt and three US defense contractors, for the release of hundreds of rebels imprisoned in Colombia and the US.
In spite of the guerrillas' promised unilateral freeing of the three hostages, a final deal seems a distant prospect. Since Colombian President Alvaro Uribe took office in August 2002, the government has not held a single face-to-face meeting with the rebels.
Lecompte said Betancourt's family fondly remembered her last birthday they all shared. That was Christmas Day 2001, as Betancourt turned 40, surrounded by her mother, two children and husband.
"It was an intimate party, just a few family members the way Ingrid liked it," Lecompte said. "The children were joking with her, telling her she had reached her 40s, that she was now at the fourth floor of life."
"This 25th will be very sad for me ... I don't know if I will ever have her back, and I just hope that in the next year we will have her with us," said Lecompte, who has tirelessly worked for his wife's freedom.
Lecompte spent much of the last week throwing about 22,000 leaflets from a small plane over the jungles of southeastern Colombia, one of the zones Betancourt is thought to be. The leaflets were adorned with pictures of Betancourt's two children. Lecompte hopes that the guerrillas will pass the flyer on to her, thus fortifying her spirits on her birthday.
Comments will be moderated. Keep comments relevant to the article. Remarks containing abusive and obscene language, personal attacks of any kind or promotion will be removed and the user banned. Final decision will be at the discretion of the Taipei Times.