Sarkozy in Egypt for year-end visit
French President Nicolas Sarkozy flew to the Egyptian city of Luxor on Tuesday aboard a private jet accompanied by his new love, ex-supermodel Carla Bruni, to spend Christmas on the banks of the Nile.
French billionaire Vincent Bollore provided the plane that brought Sarkozy, Bruni and nine others from Paris to the pharaonic splendor of Luxor, where the recently divorced Sarkozy will relax for a few days ahead of an official visit on Dec. 30.
The group traveled from the airport to the majestic Old Winter Palace hotel in a 16-vehicle convoy, with the pair walking hand-in-hand up the stairs to the hotel, the dark-suited Sarkozy waving at some tourists.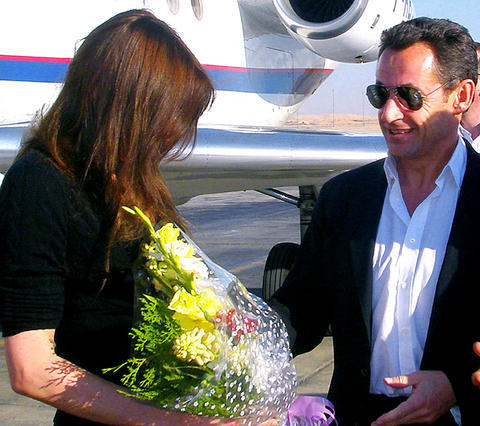 French President Nicolas Sarkozy and ex-supermodel Carla Bruni arrive at Luxor airport on Tuesday. Sarkozy flew to the Egyptian city to spend Christmas on the banks of the Nile with his new love.
PHOTO: AFP
They later emerged in casual attire, the long-haired Bruni in jeans and a light sweater and the French president in a casual navy blue jacket and jeans, for a stroll along the Nile.
After a 30-minute walk Sarkozy was seen with an arm draped around Bruni's waist, pecking her on the cheek as she whispered in his ear.
Asked by a reporter to comment on his vacation, Sarko, as he is known by both supporters and opponents, said: "Happy holidays to you and Merry Christmas."
PRYING PAPARAZZI
The couple had boarded the aircraft in a private hangar in Paris to avoid prying lenses, while paparazzi awaited the couple in Luxor seeking intimate shots of the pair.
Egyptian security forces were deployed discreetly around the town, and a French journalist and cameraman were briefly detained overnight by police for filming the couple's hotel.
Sarkozy will be staying in a US$1,100-a-night suite in the Victorian elegance of the Old Winter Palace on the east bank of the Nile, an Egyptian source said.
Council workers were seen on Monday giving a fresh lick of paint to the riverside opposite the hotel, with the town thronged by foreign tourists spending Christmas in the balmy winter air of southern Egypt.
Sarkozy and his second wife Cecilia announced their divorce in October after 11 years of marriage. Since then, he has been publicly seen with Bruni, but has remained tight-lipped about his relationship with the model-turned-singer.
DISNEY DEBUT
The couple were first photographed together on Dec. 15 at Disneyland Paris in a "coming out" that some saw as a means of moving on from Sarkozy's controversial red-carpet reception for Libyan leader Muammar Qaddafi's visit to Paris.
The president is due to fly to the Red Sea resort of Sharm el-Sheikh today, before traveling to Cairo on his first official Middle Eastern visit for talks with Egyptian President Hosni Mubarak on Sunday.
However, almost all media attention is focused on Sarkozy's relationship with Bruni, who turned 39 on Sunday, heiress to a tire fortune whose former boyfriends include rock stars Mick Jagger and Eric Clapton.
The use of the tycoon's plane to fly the president to Egypt will also draw media attention after Bollore, one of France's richest men, treated Sarkozy to a big-budget holiday in Malta soon after his election in May.
OLD FRIENDS
At the time, both Bollore and Sarkozy -- whose friendship goes back 20 years -- denied accusations of a conflict of interest, saying Bollore's business and media empire had no dealings with the French state.
After Luxor, the presidential delegation is scheduled to travel to Sharm el-Sheikh on the southern tip of the Sinai peninsula to be joined by French Foreign Minister Bernard Kouchner and his partner Christine Ockrent behind the high walls of a luxury villa.
The property has its own private beach and security will remain tight given the possibility of roving photographers in speedboats. Sharm was also the site of a 2005 terrorist bombing that killed 65 people.
Sarkozy travels to Cairo on Dec. 30 where he will head a 200-strong French delegation for a 24-hour official visit, before heading back to Paris to see in the New Year.
Comments will be moderated. Keep comments relevant to the article. Remarks containing abusive and obscene language, personal attacks of any kind or promotion will be removed and the user banned. Final decision will be at the discretion of the Taipei Times.