Nations mark third anniversary of tsunami
Three years after Indian Ocean nations were lashed by massive tsunamis, somber ceremonies were held yesterday to recall those lost in one of the worst natural catastrophes in modern times.
In Indonesia, mass prayers were held outdoors and at mosques across Aceh, the staunchly Muslim province at the northern tip of Sumatra island, where some 168,000 lives were claimed by walls of water triggered by the earthquake.
The toll was more than half the 220,000 killed in a dozen nations, including Sri Lanka, India and Thailand, with thousands of unidentified victims buried in mass graves dug in the disaster's aftermath.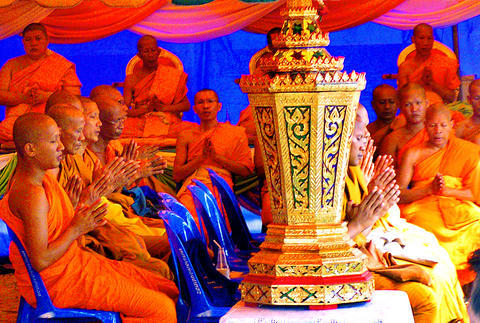 Buddhist monks chant next to the unclaimed ashes of the 2004 tsunami victims at a memorial ceremony at Patong beach, Thailand, yesterday.
PHOTO: AFP
Yesterday's main ceremony was held outdoors at a village on the outskirts of Calang, one of the areas of Aceh obliterated in the disaster.
"I came here to pray together with other residents. I pray for my wife and my child who died in the tsunami, hoping they are now resting in peace," said Alimudin, a 61-year-old retired local government official.
Aceh Governor Irwandi Yusuf, a former rebel fighter, told about 1,000 residents, school children and officials that he hoped "we can learn from the tragedy to improve our piety towards God."
"Let us leave behind all our tears and work together to rebuild Aceh, hoping that one day we can repay our `debt' to the international community," he said.
The global community pledged more than US$7 billion to help reconstruction in Aceh, which is well on track towards completion.
Yusuf, who was detained in a jail that was destroyed by the tsunami, was elected last December following a historic peace pact spurred on by the disaster -- one of its few silver linings -- that saw a 29-year separatist conflict end.
Also in Indonesia, a dramatic drill simulating a tsunami strike was held in Java's coastal province of Banten involving around 9,000 residents, local television reported.
The simulation, designed to test a tsunami warning system gradually being rolled out, saw hundreds of students, along with residents clutching children, rush to higher ground assailed by wailing sirens.
"This country is vulnerable to tsunami threats. Let us pray to God for this country to be kept safe from tsunamis," Indonesian President Susilo Bambang Yudhoyono said after observing the exercise.
Sri Lanka, which suffered 31,000 deaths, marked the anniversary by opening a showpiece bridge in the southern coastal town of Matara, donated by South Korea.
Sri Lankan President Mahinda Rajapakse observed two minutes of silence at 9:25am, the time when the first giant waves lashed the coastline in a disaster that also displaced a million people on the island.
Sri Lanka's post-tsunami reconstruction work has been dogged by graft and renewed fighting that has blocked relief to survivors, with less than a fifth of the money pledged properly accounted for, watchdogs have said.
In India, where more than 16,000 people died, hundreds of survivors, mostly poor fishermen and their families, held a procession in Nagapattinam District in southern Tamil Nadu State, where more than 6,000 people died.
Children from tsunami-affected families made offerings of flowers to the victims.
Tens of thousands of Indians lost huts in the disaster and rights groups say more than 20,000 tsunami-affected families are still waiting for new homes.
Orange-robed Buddhist monks gathered by Thailand's Andaman Sea for a blessing ceremony in memory of the 5,400 people killed in the kingdom, half of whom were foreign holiday-makers.
About 200 people from Thailand and abroad, many of whom lost loved ones in the tragedy, sat silently and grasped red roses as the monks chanted blessings. Attendees then walked out onto Phuket's Patong beach and cast the flowers, representing the dead, into the sea.
Comments will be moderated. Keep comments relevant to the article. Remarks containing abusive and obscene language, personal attacks of any kind or promotion will be removed and the user banned. Final decision will be at the discretion of the Taipei Times.