Mbeki, Zuma square off as ANC votes for future party leader in secret ballot
FLARING TEMPERS The scene was set on Saturday when delegates from the two main camps gathered in the meeting hall tried to out-chant each other
South African President Thabo Mbeki opened a conference of his ruling African National Congress (ANC) yesterday in what could be his last act as party leader.
Mbeki was expected to square off against his arch-rival, party deputy leader Jacob Zuma, who faces accusations of corruption, for the leadership of the ANC in what is set to be an acrimonious five-day gathering in the northern city of Polokwane.
The next party leader was elected by secret ballot yesterday, with the result expected to be announced today.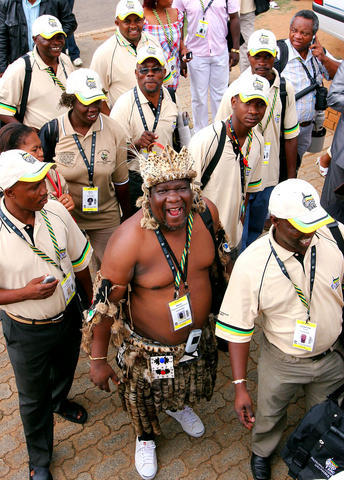 A delegate in traditional Zulu dress arrives at the 52nd annual conference of the ruling African National Congress in Polokwane, South Africa, yesterday.
PHOTO: AP
Zuma's ascendancy to the party's top post could be a stepping stone to the presidency after Mbeki's retirement in 2009.
The scene was set on Saturday with high tension and flaring tempers as party delegates squared off in the registration hall, trying to out-chant one another and disrupting accreditation proceedings.
Despite the party placing a ban on delegates wearing partisan T-shirts, Zuma's supporters wore vests depicting his image and such slogans as "Fit to govern," "Innocent until proven guilty" and "JZ for president."
Some in the other camp carried aloft posters with Mbeki's photograph and held high three fingers in an apparent reference to his quest for a third term as leader of the party that has governed South Africa since the fall of apartheid in 1994.
Some 5,000 ANC supporters, including 4,075 voting delegates, converged on Polokwane on Saturday for the head-to-head battle between Mbeki -- in his eighth year as head of state -- and Zuma, who Mbeki fired as deputy president in 2005.
Credited with much of the success of South Africa as an emerging economy, Mbeki has been under fire in recent years for what critics say is an increasingly aloof and autocratic leadership style.
He is constitutionally barred from a third term as head of state.
The populist Zuma's situation is complicated by the fact that he could face charges of corruption following his financial adviser's conviction for soliciting bribes.
Yet Zuma received nearly two-thirds of nominations leading up to the five-yearly conference, which has seen Mbeki pulling out all the stops to remind voting delegates of his challenger's alleged sexual and financial indiscretions.
Zuma was last year acquitted of raping a family friend half his age, but ridiculed for testifying he showered after consensual sex with his HIV-positive accuser to prevent infection.
For the first time since 1949, the president is likely to be chosen in an election showdown instead of a backroom compromise, with both Mbeki and Zuma steadfastly refusing to yield.
Comments will be moderated. Keep comments relevant to the article. Remarks containing abusive and obscene language, personal attacks of any kind or promotion will be removed and the user banned. Final decision will be at the discretion of the Taipei Times.