Israel to restart negotiations with Palestinians
Israelis and Palestinians resume negotiations for the first time in nearly seven years, trying to reconcile conflicting claims and clashing dreams in a bid to end six decades of conflict.
Late on Tuesday, Israel announced that the talks would be moved from Jerusalem's ornate King David Hotel to an undisclosed location. No reason for the change was given but Israeli media reports said it was an attempt to lower the profile of the meeting, since it would deal mostly with procedural matters.
Israel's plan to expand an east Jerusalem neighborhood and an Israeli military operation that killed six militants in the Gaza Strip had cast a pall over the talks even before they were to begin yesterday. Palestinians accused Israel of sabotaging the negotiations, a charge Israel rejected.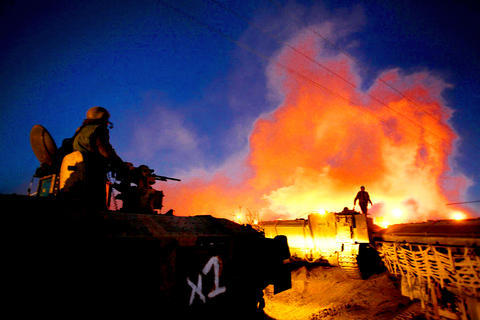 Israeli soldiers sit atop armored personnel carriers at the Sufa crossing after rolling back into Israel from the Gaza Strip following a military operation on Tuesday. Six Palestinian fighters were killed in Israel's largest operation for months against the Gaza Strip on the eve of the first Israeli-Palestinian peace negotiations since a US summit.
PHOTO: AFP
The Gaza operation was not expected to disrupt the talks since Israeli troops had withdrawn to a buffer zone along the territory's border with Israel by daybreak yesterday.
But on the east Jerusalem settlement, Palestinian officials said that they wouldn't agree to discuss anything else until Israel agrees to halt all building in the territories the Palestinians want to include in a state.
The last round of talks crumbled in early 2001, shortly after the outbreak of the second Palestinian uprising. Since then, more than 4,400 Palestinians and 1,100 Israelis have been killed.
Israel and the Palestinians formally relaunched peacemaking at an international conference last month in the US. They set an ambitious target of December next year -- near the end of US President George W. Bush's tenure -- to conclude a peace deal.
Negotiators are expected to quickly move to issues that have buried past talks -- West Bank settlements, borders between Israel and a future Palestinian state, sovereignty over disputed Jerusalem and a solution for the Palestinian refugees.
While the issues haven't changed, conditions may be better now for fruitful talks.
Opinion polls show that majorities on both sides want a peace settlement. Negotiators say a failure could strengthen rising Islamic extremism in the region, and US and Arab backing for peace moves -- absent for years -- is providing an important push.
However, both leaders face domestic troubles, making it tough for them to offer concessions.
Comments will be moderated. Keep comments relevant to the article. Remarks containing abusive and obscene language, personal attacks of any kind or promotion will be removed and the user banned. Final decision will be at the discretion of the Taipei Times.