Lopez Obrador supporters storm Mexico City church
PLAZA MEETING Protesters were angry after cathedral bells chimed during a rally for the former presidential candidate, whose ability to draw crowds may be waning
Dozens of supporters of former leftist presidential candidate Andres Manuel Lopez Obrador stormed into Mexico City's main Roman Catholic cathedral on Sunday, scuffling and overturning pews before they left, church officials said.
The Archdiocese of Mexico described the incident -- which delayed Sunday Mass, frightened some parishioners out of the building and forced priests to take refuge in the sacristy -- as an act of violence against the church.
One elderly parishioner was slightly injured during the scuffle, according to Father Ruben Avila, who is in charge of the Cathedral.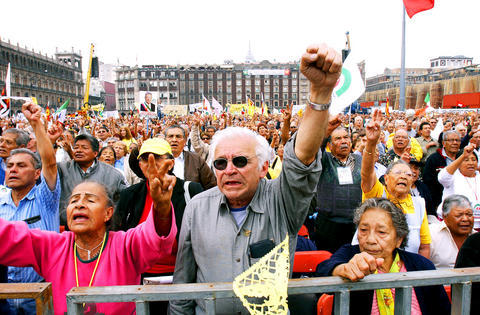 Supporters of Mexico's former presidential candidate Andres Manuel Lopez Obrador shout slogans in Mexico City on Sunday during an event commemorating his first anniversary as the country's self-proclaimed ''legitimate'' president.
PHOTO:AP
The protesters were reportedly angry because the cathedral bells had chimed -- a traditional call to Mass -- while a Lopez Obrador rally was going on in the adjacent main square.
"Of all sudden, the whole cathedral shook with their shouting and they pushed the parishioners within a few meters from the door of the sacristy," Avila said in an article posted on the Archdiocese's Web site.
The protesters shouted slogans against Cardinal Norberto Rivera, who they claim has become involved in politics, something clerics are forbidden to do by Mexican law. Avila estimated the number of protesters at 100.
Lopez Obrador's supporters have frequently interrupted services at the cathedral, chanting slogans against electoral fraud which they believe cost their candidate the presidencial elections July last year.
Since that loss, Lopez Obrador has declared himself the "legitimate" president of a government-in-resistance and encouraged followers not to recognize winner President Felipe Calderon.
Calderon and election officials deny there was fraud.
At the Sunday rally of under 100,000 -- the smallest crowd Lopez Obrador has drawn in a series of mass meetings in the main plaza since the elections last year -- he called on Mexico's government to invest US$36 billion to combat oil declining reserves.
He also asked his followers to resist any possible privatization of the oil industry.
"We are facing one of the nation's most critical moments," Lopez Obrador said, referring to declining oil production and the lack of refinery capacity at state-run oil company Pemex that forces Mexico to import gasoline.
"This has created a dangerous situation of [energy] dependence," said Lopez Obrador.
The money would also be used to increase drilling and modernize the country's petrochemical plants, he said.
Comments will be moderated. Keep comments relevant to the article. Remarks containing abusive and obscene language, personal attacks of any kind or promotion will be removed and the user banned. Final decision will be at the discretion of the Taipei Times.