Opposition urged to end deadlock
The Japanese government yesterday urged the main opposition party to return to the negotiating table and end the current legislative deadlock.
The government made its request after Ichiro Ozawa, leader of the Democratic Party of Japan (DPJ), retracted his resignation offer.
The government also said it was still willing to consider power-sharing talks with the DPJ, whose executives on Friday rejected the proposal, prompting Ozawa to abruptly announce his resignation as party leader.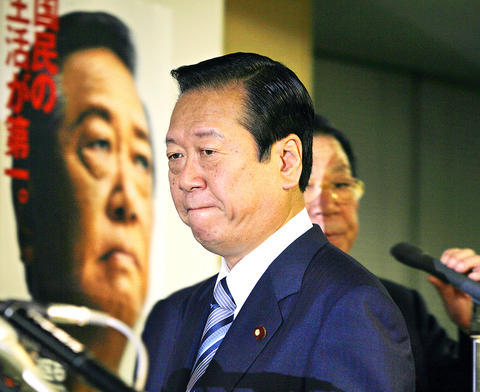 Ichiro Ozawa, leader of the main opposition Democratic Party of Japan, enters a press conference at party headquarters in Tokyo after he attended a meeting of the party's lawmakers.
PHOTO: AFP
"I hope various kinds of policy talks will be held" with the DPJ, Chief Cabinet Secretary Nobutaka Machimura told a news conference.
"We hope Mr Ozawa will exercise his leadership" in reviving policy negotiations between the two main parties, Machimura said.
Ozawa on Tuesday retracted his offer to resign over Japanese Prime Minister Yasuo Fukuda's proposal for a grand coalition to break the legislative stalemate over Tokyo's support refueling support mission for US-led operations in Afghanistan.
His resignation raised fears of prolonged policy deadlock.
The government plans to pass legislation by Saturday in the lower house to extend the Indian Ocean refueling mission, before sending it to the upper house, which has been controlled by the opposition since July elections.
The mission, Japan's main role in the US-led "war on terror," was halted last week after legislation authorizing it expired. The DPJ blocked the bill, saying that Japan should not join an "American war."
Japanese media said the veteran conservative would have to work hard to rebuild confidence in the party.
Comments will be moderated. Keep comments relevant to the article. Remarks containing abusive and obscene language, personal attacks of any kind or promotion will be removed and the user banned. Final decision will be at the discretion of the Taipei Times.