Fights over food and water break out in Mexico's Gulf Coast
Residents began running perilously short of food and water in Mexico's southern Gulf Coast on Sunday after a week of devastating floods that destroyed or damaged the homes of as many as half a million people.
Authorities said two more bodies were found on Sunday floating in brackish waters covering much of the region. If confirmed the deaths were caused by the flooding, the disaster's toll would stand at 10.
"We are seeing one of the worst natural catastrophes in the history of the country," President Felipe Calderon said in Tabasco State. "Not only because of the size of the area affected, but because of the number of people affected."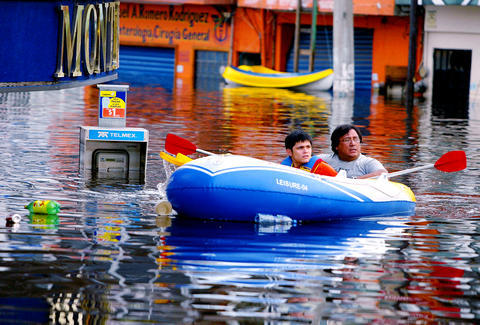 Residents use an inflatable boat to get out of downtown Villahermosa, Tabasco State, Mexico on Sunday.
PHOTO: AFP
Since rivers first began to burst their banks on Oct. 28, the homes of an estimated half a million people have been damaged or destroyed and at least that many more people have been affected by severed utilities and transportation corridors, the government said. In neighboring Chiapas State, four bridges and 290km of roads were washed out.
"People are fighting over food and water, and the lack of electricity and running water are making life in the city impossible," said Martha Lilia Lopez, who has been handing out food to victims on behalf of a nonprofit foundation she heads.
Many in Tabasco remained camped out on the rooftops or upper floors of their flooded homes to guard their possessions from looters, but their resolve was running out -- along with water, food and other supplies.
"I would prefer to be in my house instead of a shelter, but we ran out of everything," said Patricio Bernal, 53, who was evacuated by boat along with his wife from their home in the state capital Villahermosa.
"We spent days without food. We thought we were going to die," said Marta Vidal, 47, who was taken to safety by helicopter.
Daniel Montiel Ortiz, who oversaw helicopter rescue efforts for the federal police, said rescuers were now focused on "selective evacuations" -- primarily of sick people -- and delivering badly needed supplies to isolated communities still surrounded by water.
Some desperate residents in Villahermosa broke into shuttered stores and took food and household goods, and police reported detaining about 50 people for looting over the last couple of days. But Ortiz called those "isolated incidents."
After water covered about 80 percent of Tabasco's already swampy coastal territory, authorities struggled to calculate the damages. The Social Development Department estimated that the homes of 400,000 to 500,000 people were damaged or destroyed.
River levels began to recede slightly on Sunday, but Villahermosa remained largely flooded. Health authorities reported cases of eye, skin, intestinal and respiratory infections, but no mass outbreak of waterborne diseases that many had feared.
Comments will be moderated. Keep comments relevant to the article. Remarks containing abusive and obscene language, personal attacks of any kind or promotion will be removed and the user banned. Final decision will be at the discretion of the Taipei Times.