Tokyo protests to Beijing over Chinese activists' foray into contested waters
Japan said yesterday it lodged a protest with China after Hong Kong-based activists attempted to sail to islands disputed over by Japan, China and Taiwan.
The activists entered the contested area on Sunday flying a Chinese flag and a banner claiming sovereignty over the uninhabited islands in the East China Sea, known as the Senkaku in Japanese and Diaoyu in Chinese.
"It is a serious problem that they infringed on our nation's sovereignty, even for a short period of time," chief government spokesman Nobutaka Machimura told a news conference.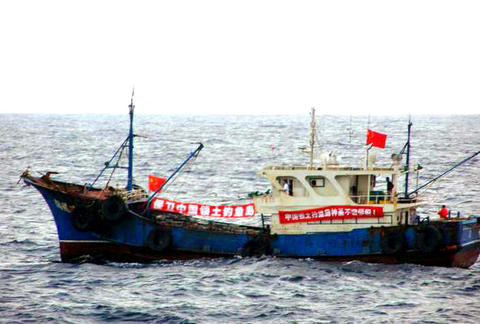 A boat carrying Chinese activists sails toward the Diaoyu Islands in disputed waters on Sunday.
PHOTO: AP
"There is no doubt historically and under international law that the Senkaku islands are Japan's sovereign territory. No territorial dispute exists between the two countries," he said.
The Japan Coast Guard dispatched patrol ships as well as an aircraft to chase away the activists, who never reached the islands but reportedly spent more than an hour in what Japan considers its waters, coast guard officials said.
The coast guard said it gave up the chase after the vessel turned direction.
The foreign ministry said it delivered a protest to the Chinese embassy in Tokyo late on Sunday.
In response, "the Chinese side repeated its own position on the territorial dispute and rejected our protest, while requesting that the Japanese side deal with the matter calmly," a Japanese foreign ministry statement said.
Japan and China have a series of territorial disputes, including over lucrative gas resources in the East China Sea.
Japan claimed the islands in 1895 when it took over Taiwan.
The US seized the islands in World War II and returned them to Japan in 1972 along with Okinawa, despite protests from China and Taiwan.
China also continues to claim that Taiwan and its islands are part of its territory.
In March 2004, seven Chinese activists managed to land on the islands. They were arrested and deported, causing a diplomatic row with Beijing.
Comments will be moderated. Keep comments relevant to the article. Remarks containing abusive and obscene language, personal attacks of any kind or promotion will be removed and the user banned. Final decision will be at the discretion of the Taipei Times.