Mogadishu sees worst violence in months
NO REST At least seven people were killed in fighting between Islamic insurgents and government forces on Saturday and two more bodies were seen yesterday
Hundreds of protesters demanding the departure of government-allied Ethiopian troops burned tires and threw stones yesterday in the Somali capital as some of the worst violence in months continued for a second day.
Two demonstrators were wounded when Ethiopian troops fired toward protesters after several hundred Somalis -- many of them women and children -- took to the streets shouting anti-Ethiopian slogans, erecting burning barricades and tossing rocks, witnesses said.
"We will resist them -- for our country, our religion, our honor," demonstrator Ahmed Hussein said.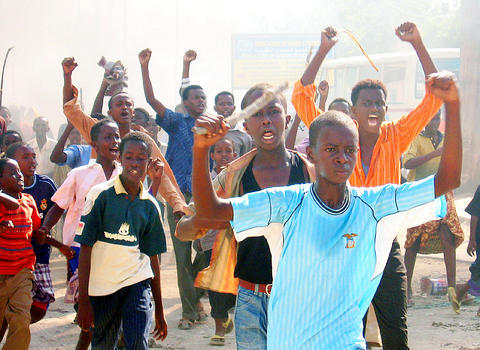 Children stage a protest against the latest wave of violence in the streets of Mogadishu, Somalia, yesterday. Fighting in the city left at least seven people dead on Saturday, witnesses said.
PHOTO: AFP
Meanwhile, at least two bodies were seen in the streets following a second day of clashes yesterday between Islamic insurgents who have been fighting Ethiopian and Somali government forces.
Insurgents and government troops and allied Ethiopian forces battled with machine guns, mortars and rocket-propelled grenades on Saturday, leaving at least seven people dead and dozens others wounded, witnesses and health officials said.
At least 35 people were under treatment at Mogadishu's Medina Hospital from injuries suffered during the fighting, including some who were seriously wounded, said Tahir Mohammed Mahmoud, an administrative assistant.
Hospital staff and Mogadishu residents said it was the heaviest fighting in months.
Mogadishu has been plagued by violence since government troops and their Ethiopian allies chased out the Council of Islamic Courts in December. For six months, the Islamic group had controlled much of southern Somalia, and remnants have vowed to fight an Iraq-style insurgency.
Thousands of civilians have been killed in the fighting this year.
On the political front, Somali Prime Minister Ali Mohamed Gedi was in the Ethiopian capital, Addis Ababa, for consultations over the weekend.
He has been locked in a struggle for months with Somali President Abdullahi Yusuf, who wants to push through a no-confidence vote this week and form a new government -- presumably without Gedi.
Twenty-two ministers and deputy ministers have threatened to resign unless the no-confidence vote is held, exposing deep rifts in the administration.
Somalia has not had a functioning governments since 1991, when rival warlords overthrew dictator Mohamed Siad Barre and then turned on each other. Some 1.5 million Somalis are now in need of food aid and protection -- or 50 percent more that at the start of the year -- because of inadequate rains, continuing internal displacement and a potential cholera epidemic, the UN says.
Comments will be moderated. Keep comments relevant to the article. Remarks containing abusive and obscene language, personal attacks of any kind or promotion will be removed and the user banned. Final decision will be at the discretion of the Taipei Times.